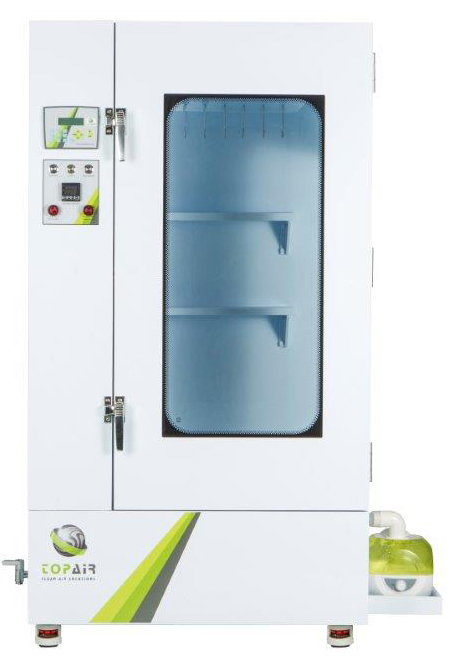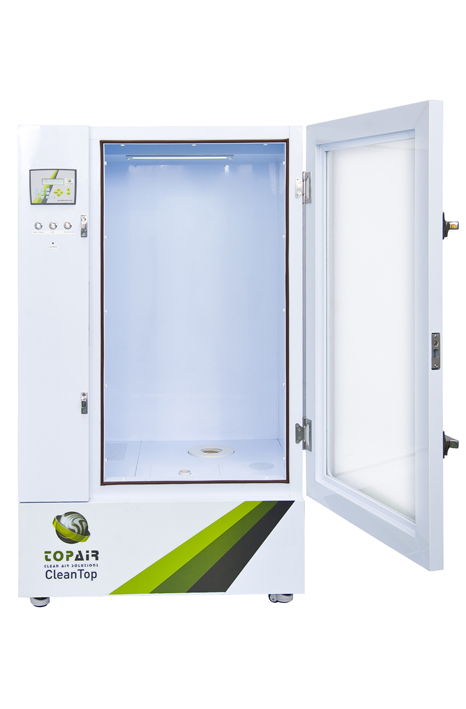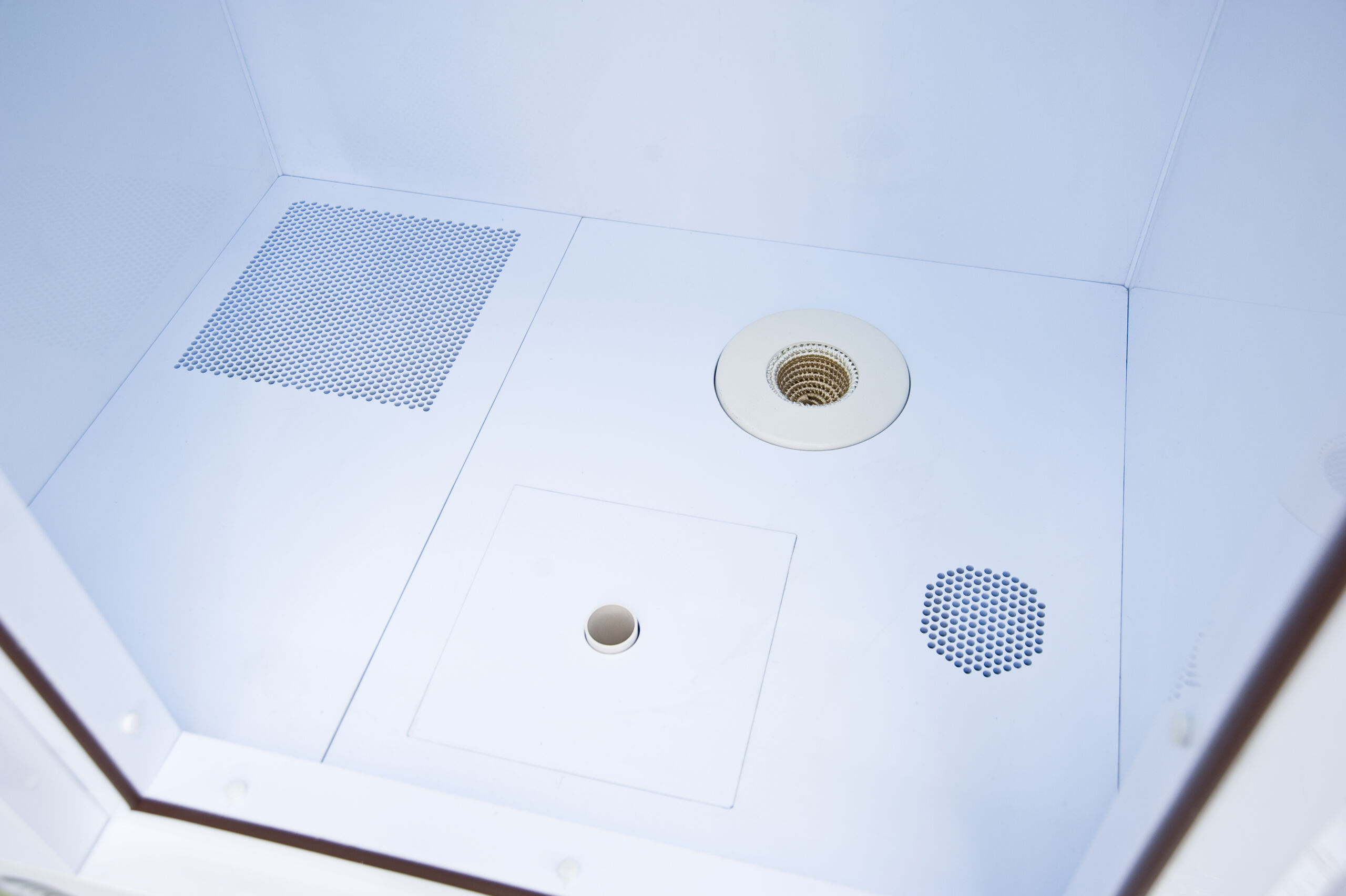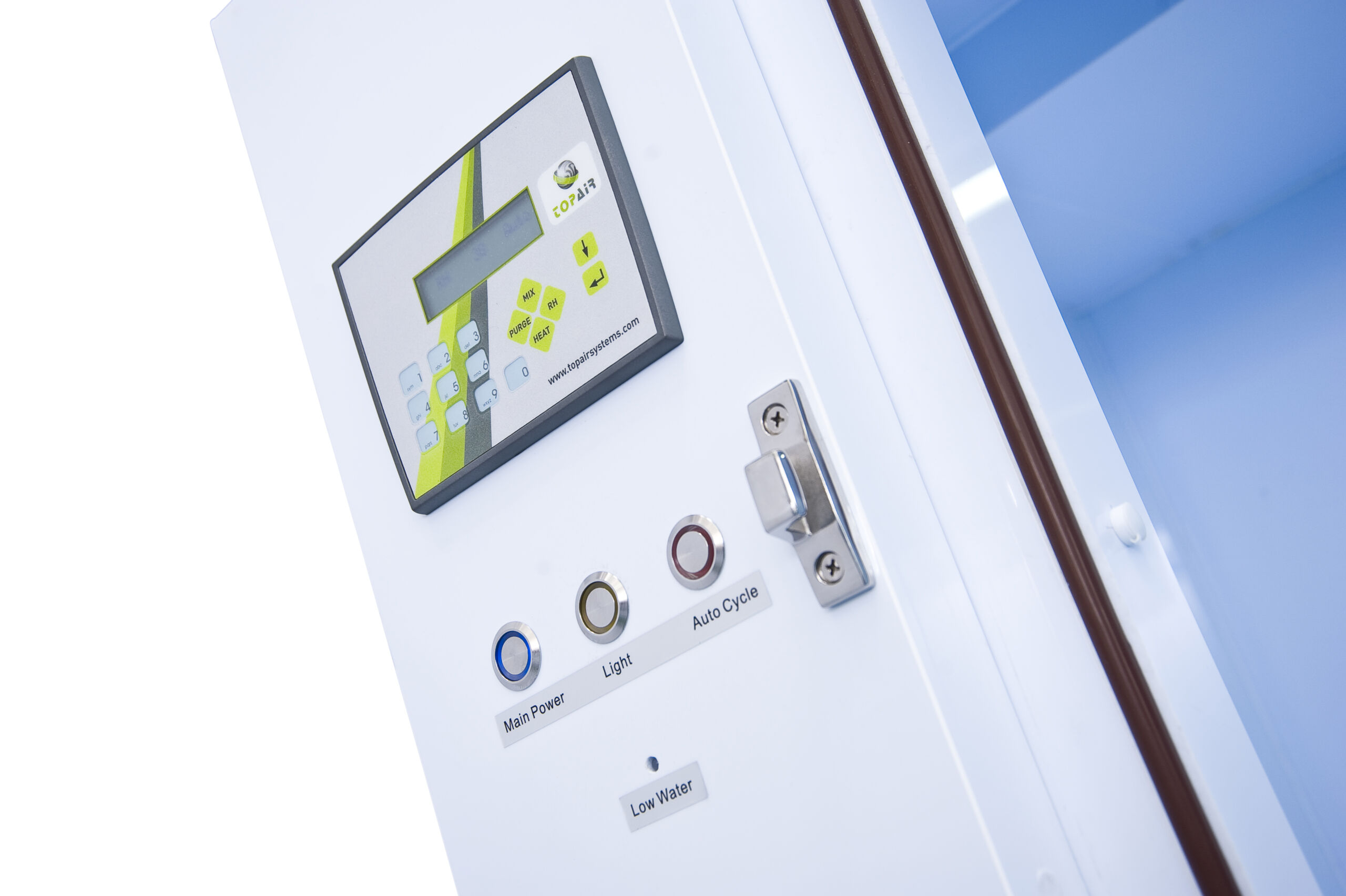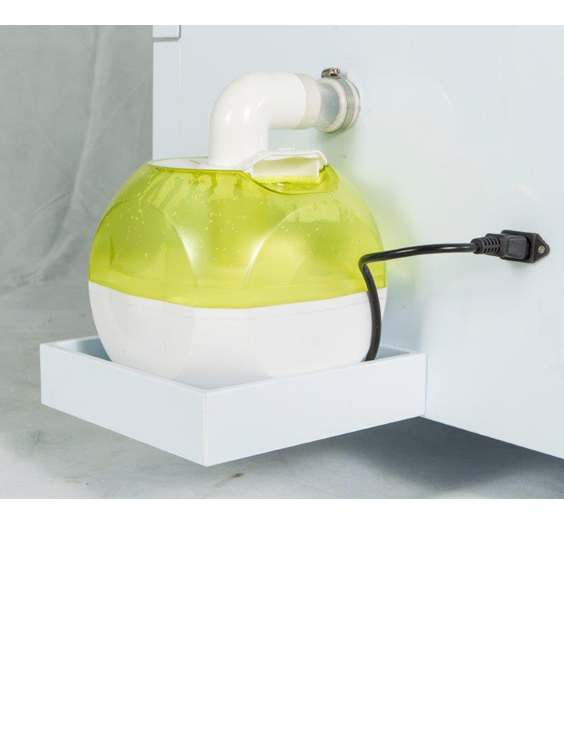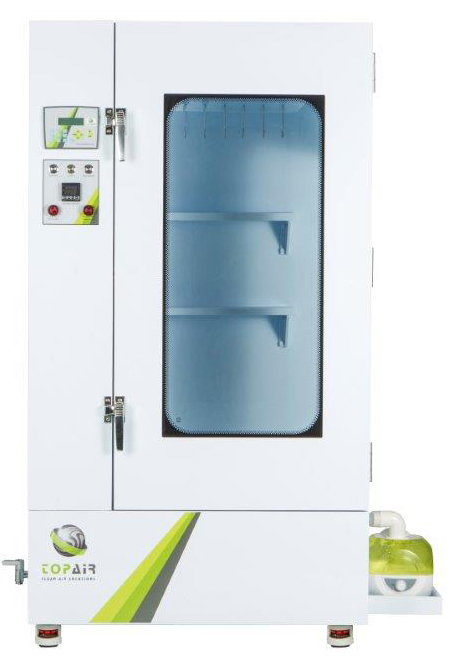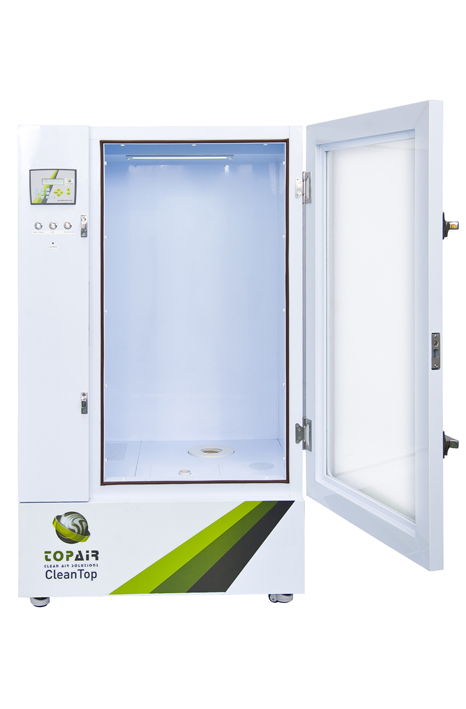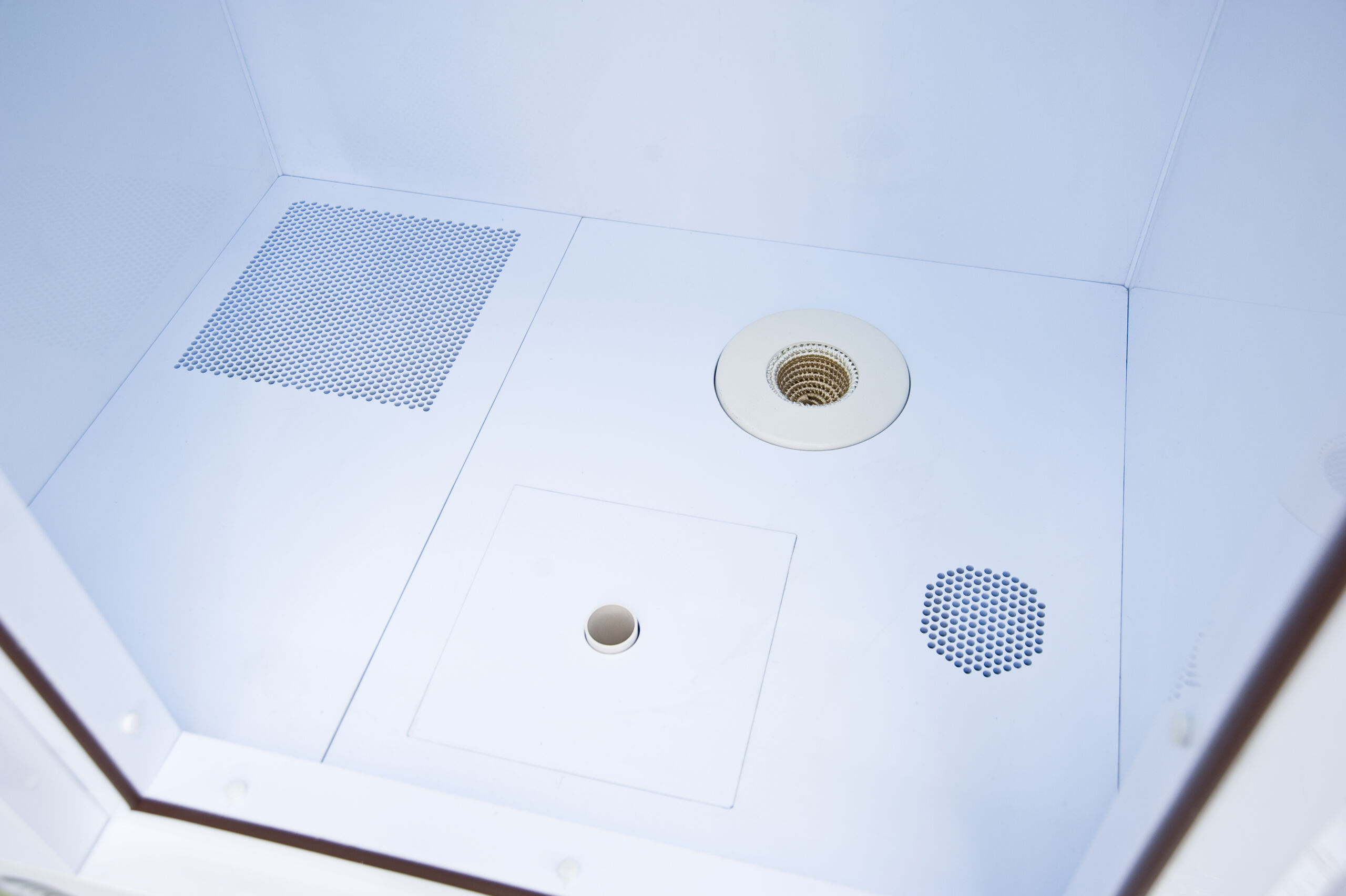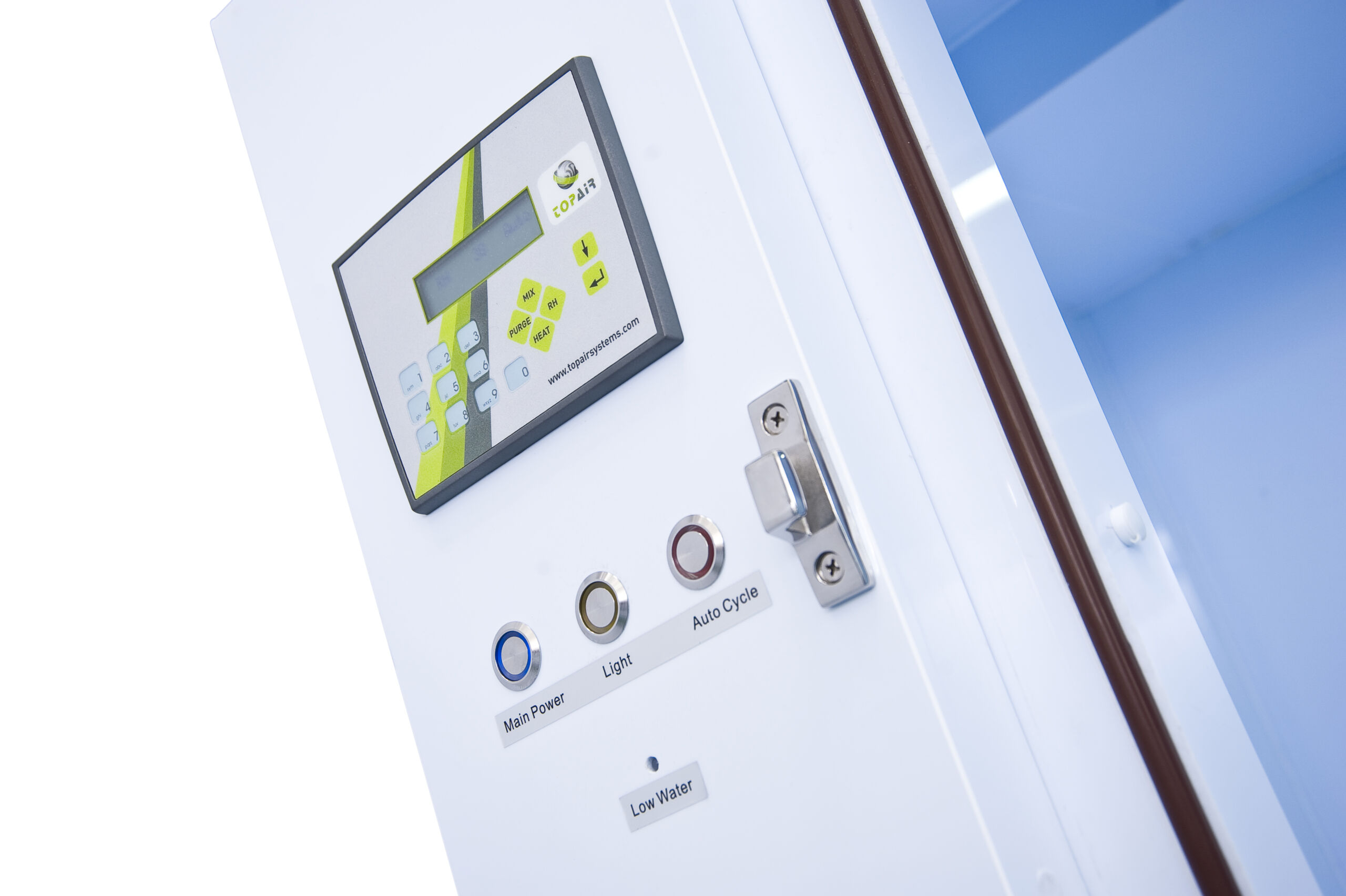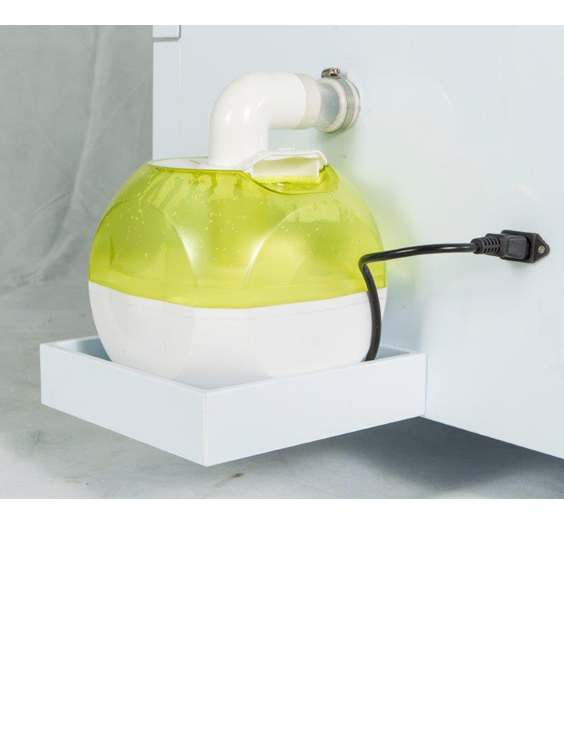 Product
Water Filtration Cyanoacrylate Fuming Chamber
TopAir's Water Filtration Cyanoacrylate Fuming Chamber is used to develop latent prints from non-porous surfaces in a safe, controlled environment.
Cyanoacrylate is placed inside the chamber while evidence is easily positioned using the adjustable hanging rods. Starting the cycle triggers the automated system to control the hotplate, humidity, door lock, internal circulation fan, and purge cycle.
The Cyanoacrylate vapors are filtered using water filtration. This ensures that no dangerous substances are exhausted in to the atmosphere surrounding the laboratory.
The reaction of the fumes of cyanoacrylate to water causes the fumes turn into to non-hazardous plastic residue.
The filtration tank is equipped with a draining tap and a built-in washing/ refilling pipe. Removal of the filtration tank is not required for washing and refilling. The unit's recirculatory design enables the system to operate and setup with no ducting required. Its ductless construction also allows the unit to be easily moved and transported.
Show all
Water Filtration Cyanoacrylate Fuming Chamber
Models
Spec/Model
SG-060-WF
SG-080-WF
SG-090-WF
SG-150-WF
SG-180-WF
Airflow (m3/hr)
175
250
250
250
250
Dimensions WxDxH
600 x 600 x 760
mm
23.6 x 23.6 x 29.9"
800 x 750 x 1550
mm
31.5 x 29.5 x 61"
900 x 750 x 1550 mm
35.4 x 29.5 x 61"
1500 x 750 x 1550 mm
59 x 29.5 x 61"
1800 x 750 x 1550
mm
70.8 x 29.5 x 55"
Noise (Tested 20 cm from the work table, 1.2m above ground)
<48 dBA
<48 dBA
<48 dBA
<48 dBA
<48 dBA
Lighting
LED 18 W
LED 18 W
LED 18 W
LED 18 W
LED 18 W
Main Filter (Qty.)
Water Trap
Water Trap
Water Trap
Water Trap
Water Trap
Temp & Humidity Accuracy
± 3%
± 3%
± 3%
± 3%
± 3%
Temperature
± 2°C
± 2°C
± 2°C
± 2°C
± 2°C
Fan
High Pressure
High Pressure
High Pressure
High Pressure
High Pressure
Power Supply
115 / 230V 50/60 Hz, Single phase
115 / 230V 50/60 Hz, Single phase
115 / 230V 50/60 Hz, Single phase
115 / 230V 50/60 Hz, Single phase
115 / 230V 50/60 Hz, Single phase
Switches
Main ON/OFF
Main ON/OFF
Main ON/OFF
Main ON/OFF
Main ON/OFF
Monitoring
Electronic Display
Electronic Display
Electronic Display
Electronic Display
Electronic Display
Construction
Polypropylene Structure, Safety Triplex Glass
Polypropylene Structure, Safety Triplex Glass
Polypropylene Structure, Safety Triplex Glass
Polypropylene Structure, Safety Triplex Glass
Polypropylene Structure, Safety Triplex Glass
Production/ Test Standard
CE
CE
CE
CE
CE