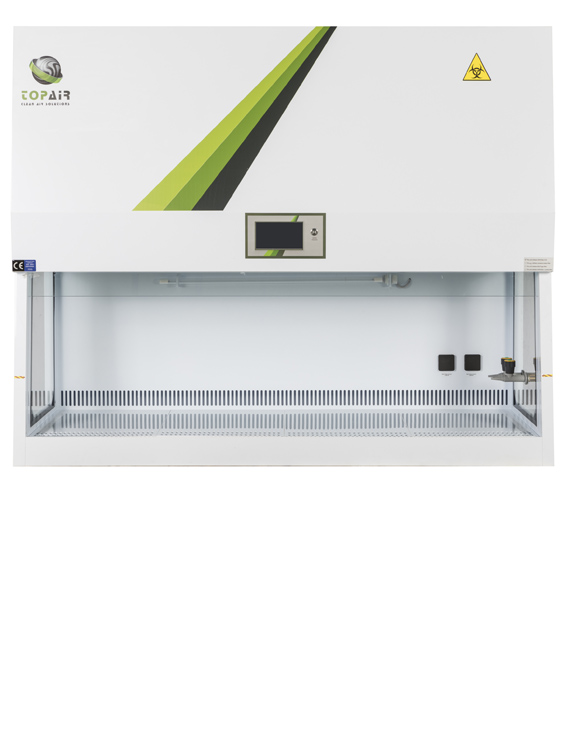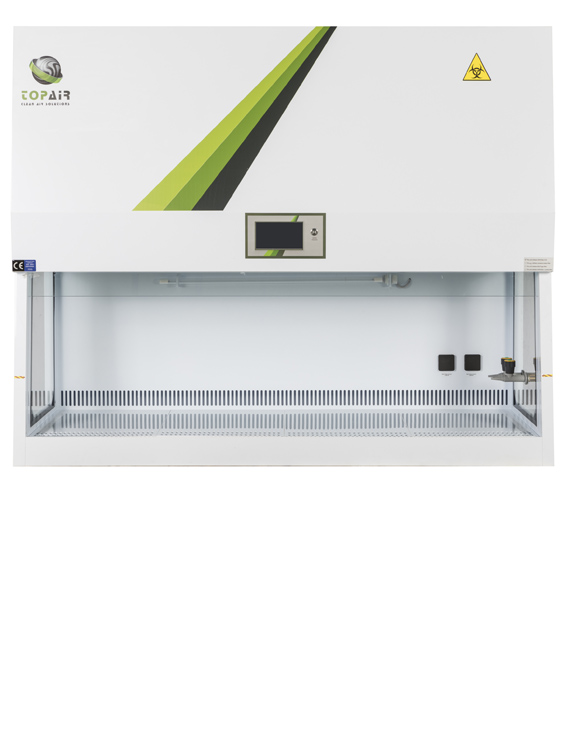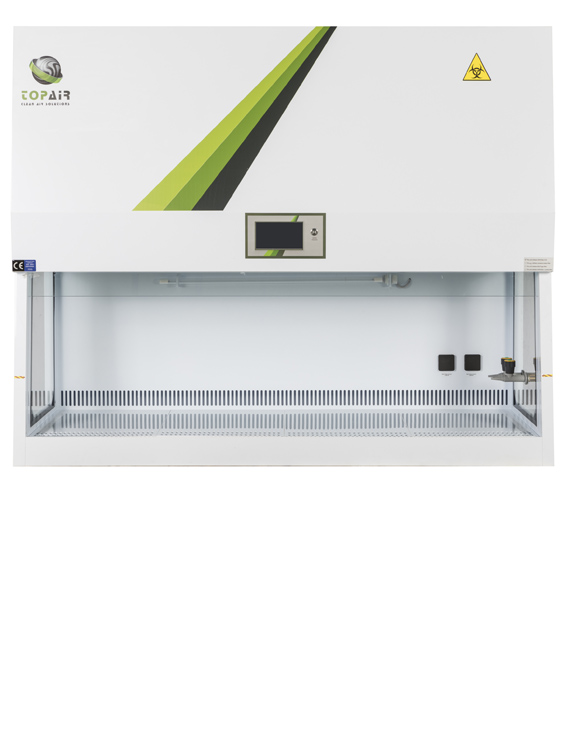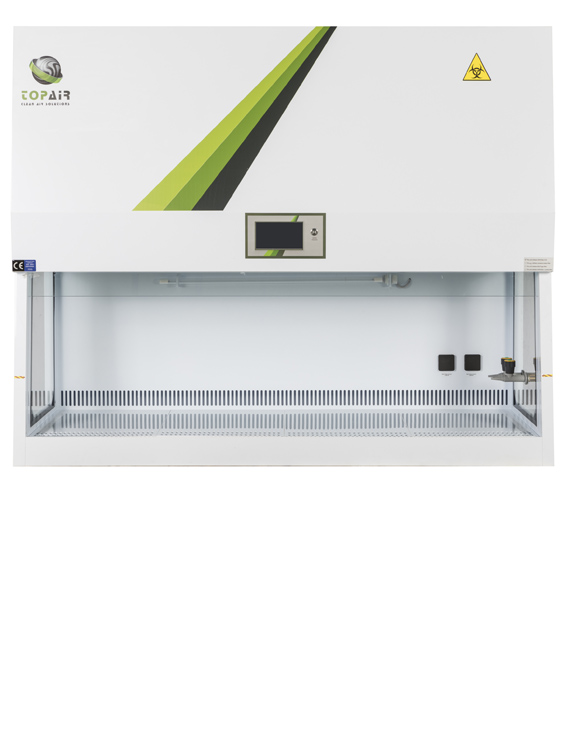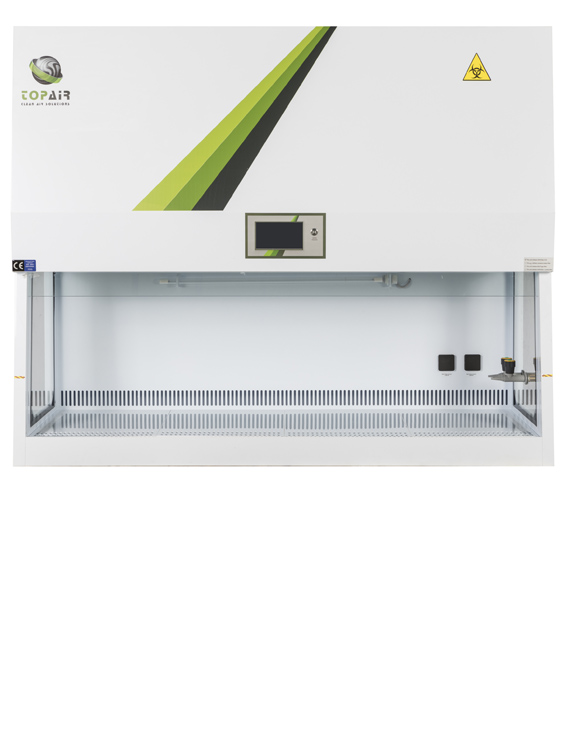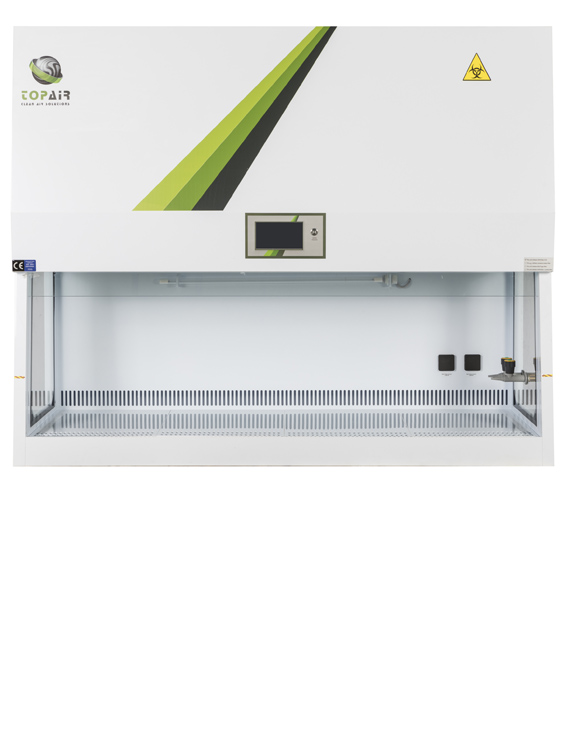 Product
Biosafety Metal Free Cabinet Class II A2
TopAir's Full-Polypropylene Biosafety Cabinet Class II A2 protects lab staff, the environment and sensitive work processes in which biological agents are applied.
The product offers a high level of contamination protection, based on two advanced ULPA filters operating at a typical efficiency of @99.9995% @ 0.1 um with an airflow pattern of 70% downflow and 30% exhaust.
The cabinet structure is 100% polypropylene, including all components, both external and internal. The robust, easily-cleaned anti-corrosive polypropylene offers high resistance to acids and chemicals, which is optimal for clean rooms.
The cabinet is equipped with a smart, safe and elegant touch-screen control system that protects the operator and provides alerts for periodic maintenance actions and devices' replacement.
All components have low energy consumption, LED lighting and an EC fan motor.
The cabinet is CE certified, and complies with EN 12469.
Show all
Biosafety Metal Free Cabinet Class II A2
Models
Spec/ Model
BO-090-PP
BO-120-PP
BO-150-PP
BO-180-PP
Outer Dimensions
W x D x H
915 x 800 x 1500 mm

36 x 31.5 x 59″

1220 x 800 x 1500 mm

48 x 31.5 x 59″

1525 x 800 x 1500 mm

60 x 31.5 x 59″

1830 x 800 x 1500 mm

72 x 31.5 x 59″

Workspace
(W x D x H)
835 x 600 x 630
mm
32.8 x 23.6 x 24.8″
1135 x 600 x 630
mm
44.7 x 23.6 x 24.8″
1440 x 600 x 630
mm
57 x 23.6 x 24.8″
1715 x 600 x 630
mm
67.5 x 23.6 x 24.8″
Front Sash Opening
480 mm / 18.9"
480 mm / 18.9"
480 mm / 18.9"
480 mm / 18.9"
Production/
Test Standard
CE / In Accordance with EN12469
CE / In Accordance with EN12469
CE / In Accordance with EN12469
CE / In Accordance with EN12469
Downflow Velocity
0.33 m/s, 60 FPm
0.33 m/s, 60 FPm
0.33 m/s, 60 FPm
0.33 m/s, 60 FPm
Inflow velocity
0.5 m/s, 100 fpm
0.5 m/s, 100 fpm
0.5 m/s, 100 fpm
0.5 m/s, 100 fpm
Airflow pattern
70% circulation, 30% exhaust
70% circulation, 30% exhaust
70% circulation, 30% exhaust
70% circulation, 30% exhaust
Cleanliness level
Class 100/ISO 5
Class 100/ISO 5
Class 100/ISO 5
Class 100/ISO 5
Cabinet Material
Welded white polypropylene structure (internal and external)
Welded white polypropylene structure (internal and external)
Welded white polypropylene structure (internal and external)
Welded white polypropylene structure (internal and external)
Noise (Tested 20 cm from worktable, 1.2m above ground)
<55dB
<55dB
<57dB
<63dB
Power supply
115 / 230V 50/60 Hz, Single phase
115 / 230V 50/60 Hz, Single phase
115 / 230V 50/60 Hz, Single phase
115 / 230V 50/60 Hz, Single phase
Illumination
800 LUX, Eco-friendly LED lighting
800 LUX, Eco-friendly LED lighting
800 LUX, Eco-friendly LED lighting
800 LUX, Eco-friendly LED lighting
Filters
ULPA H15 Efficiency @99.9995% @ 0.1 um
ULPA H15 Efficiency @99.9995% @ 0.1 um
ULPA H15 Efficiency @99.9995% @ 0.1 um
ULPA H15 Efficiency @99.9995% @ 0.1 um