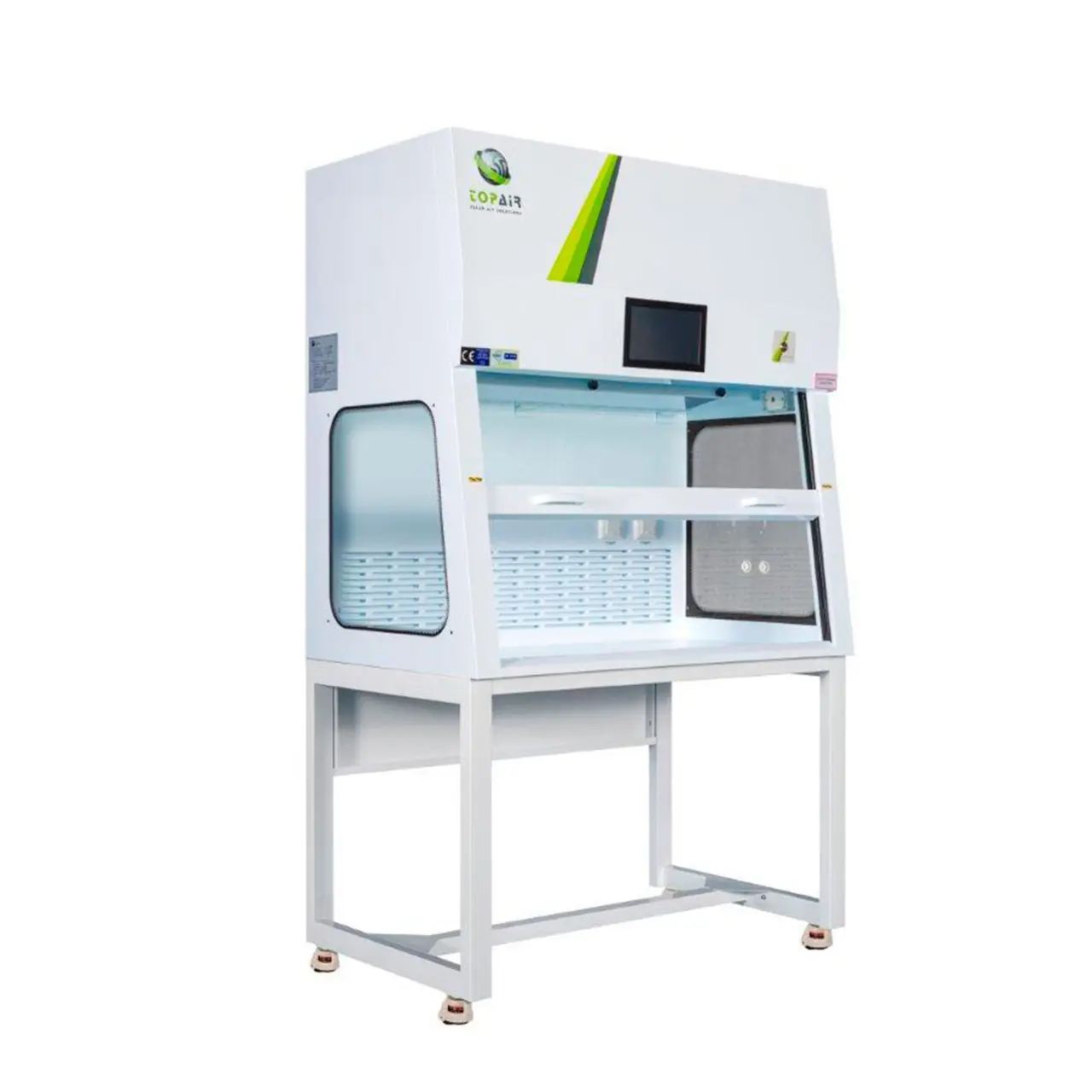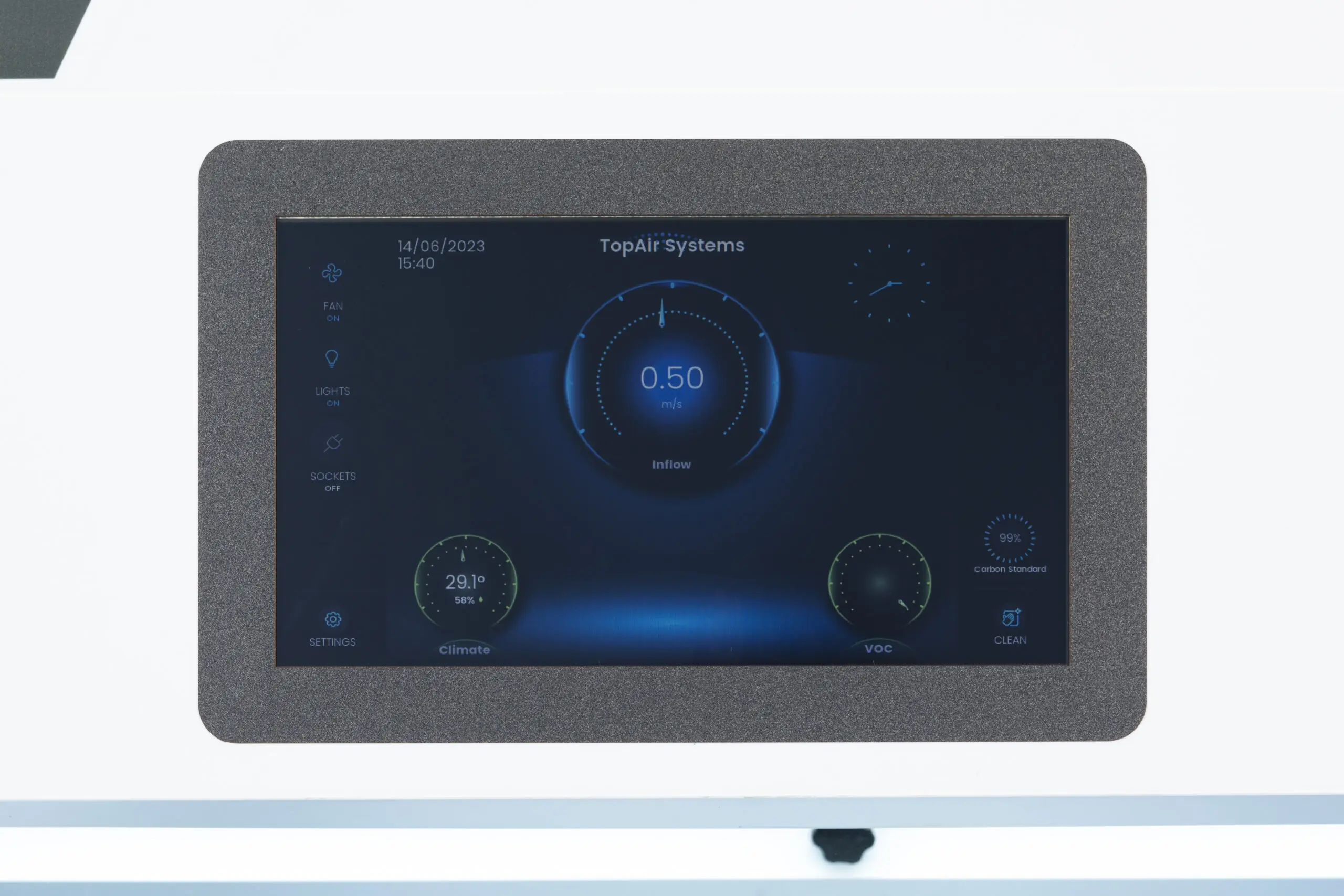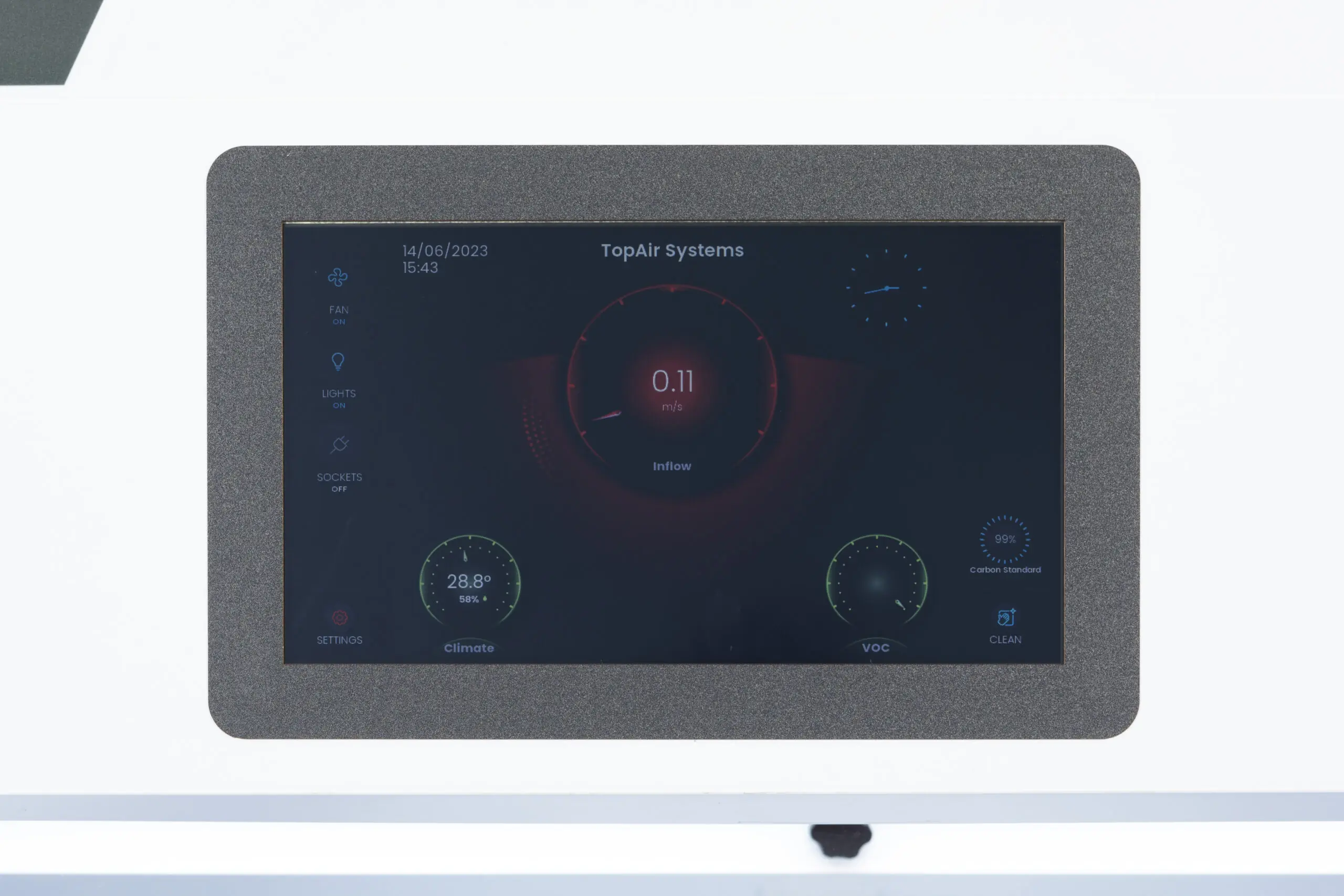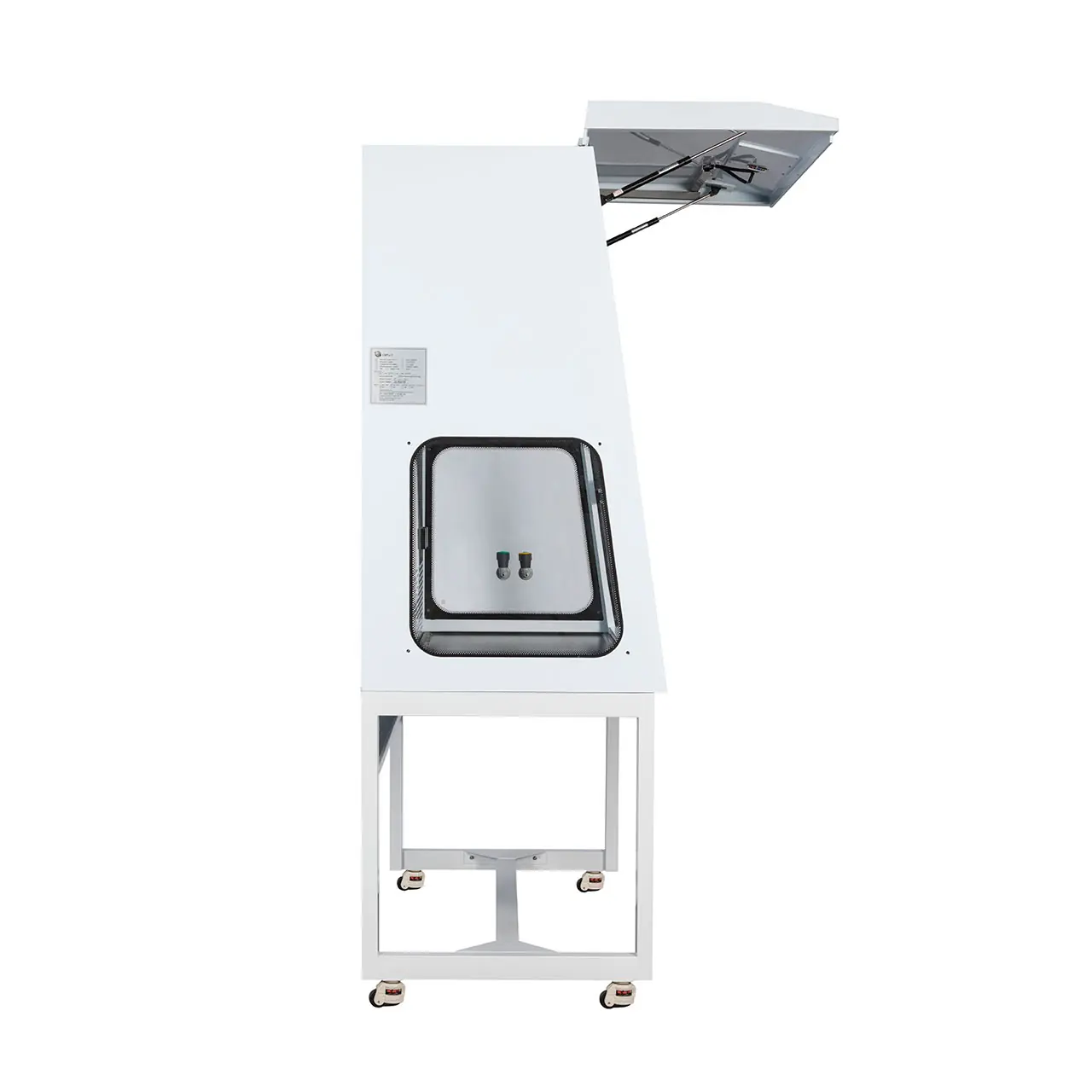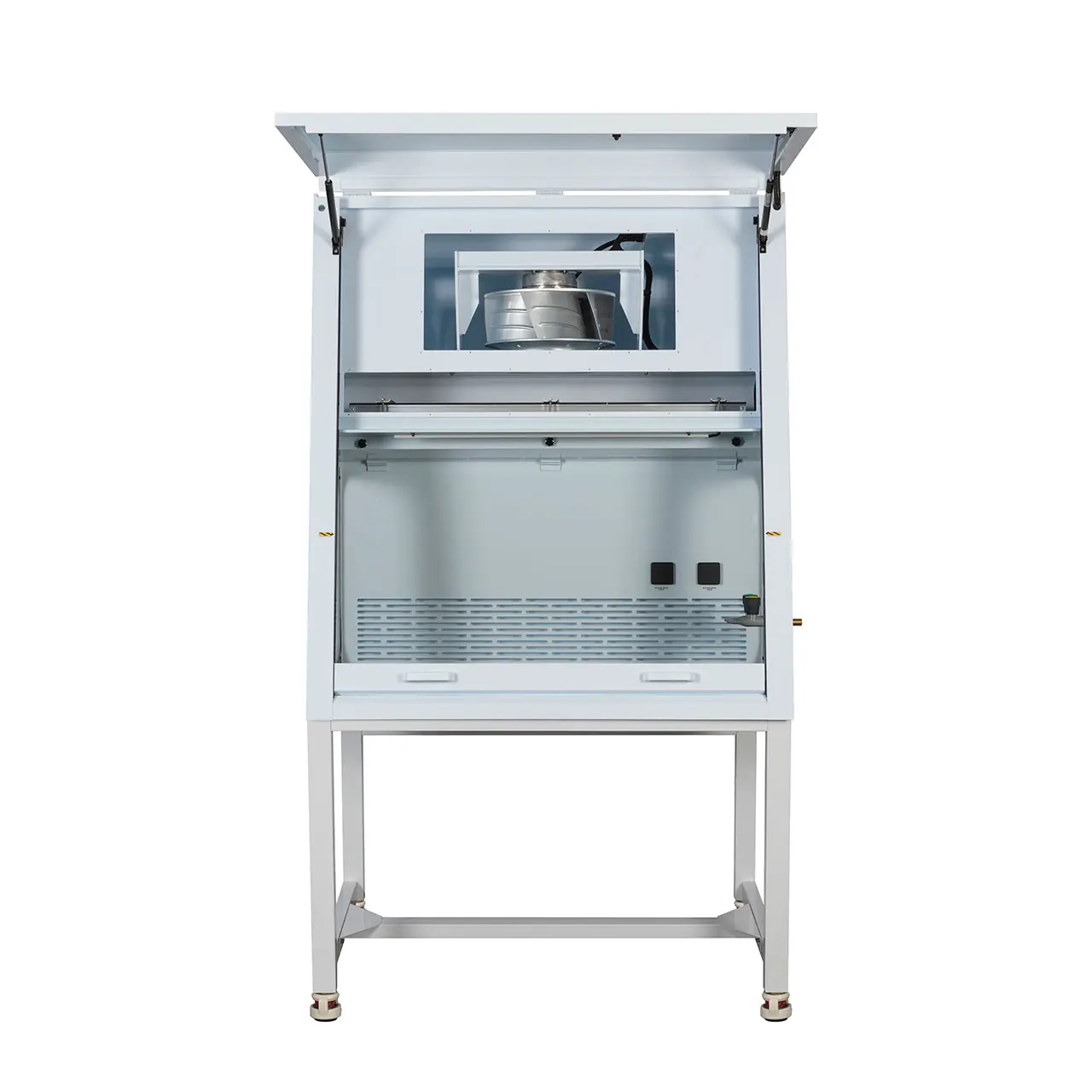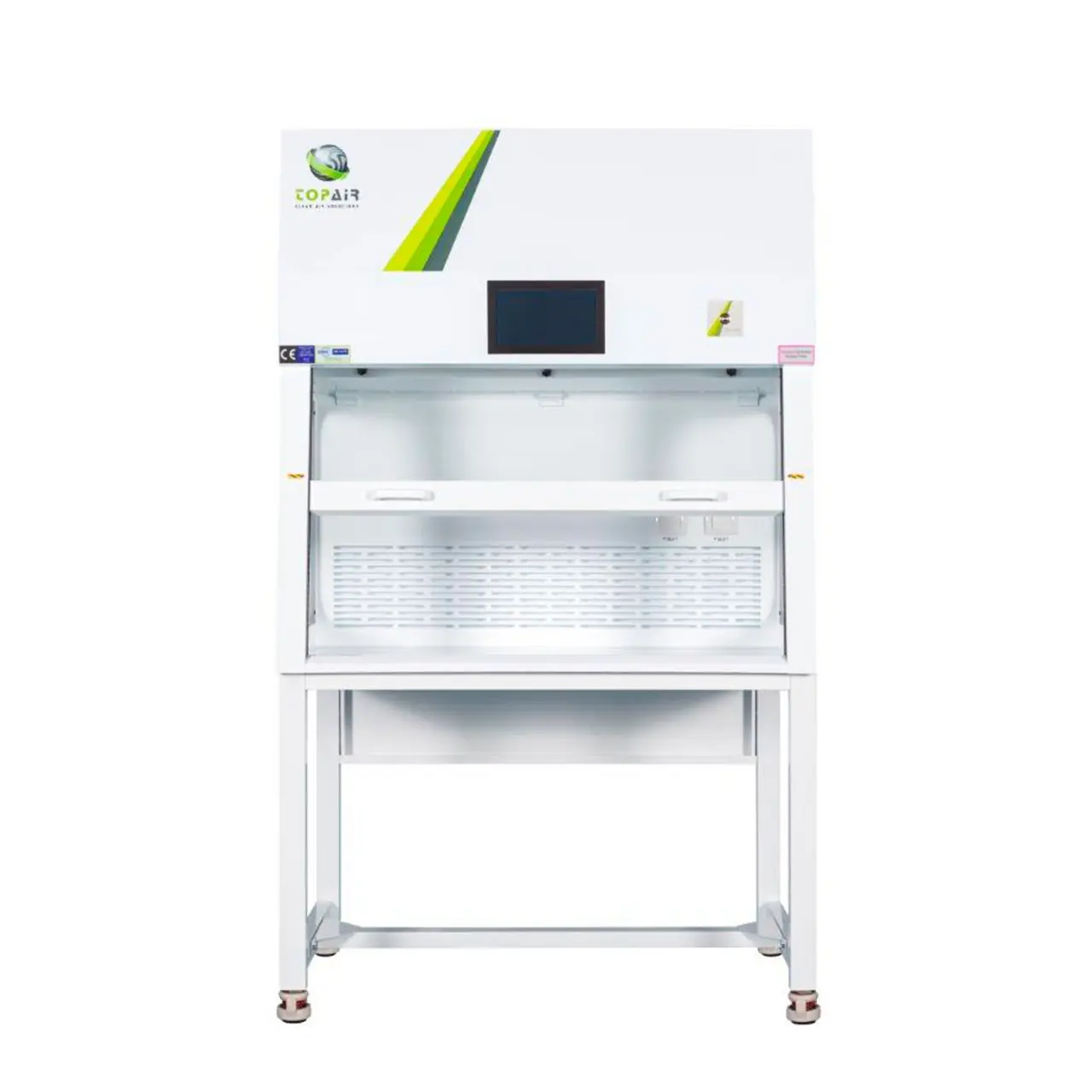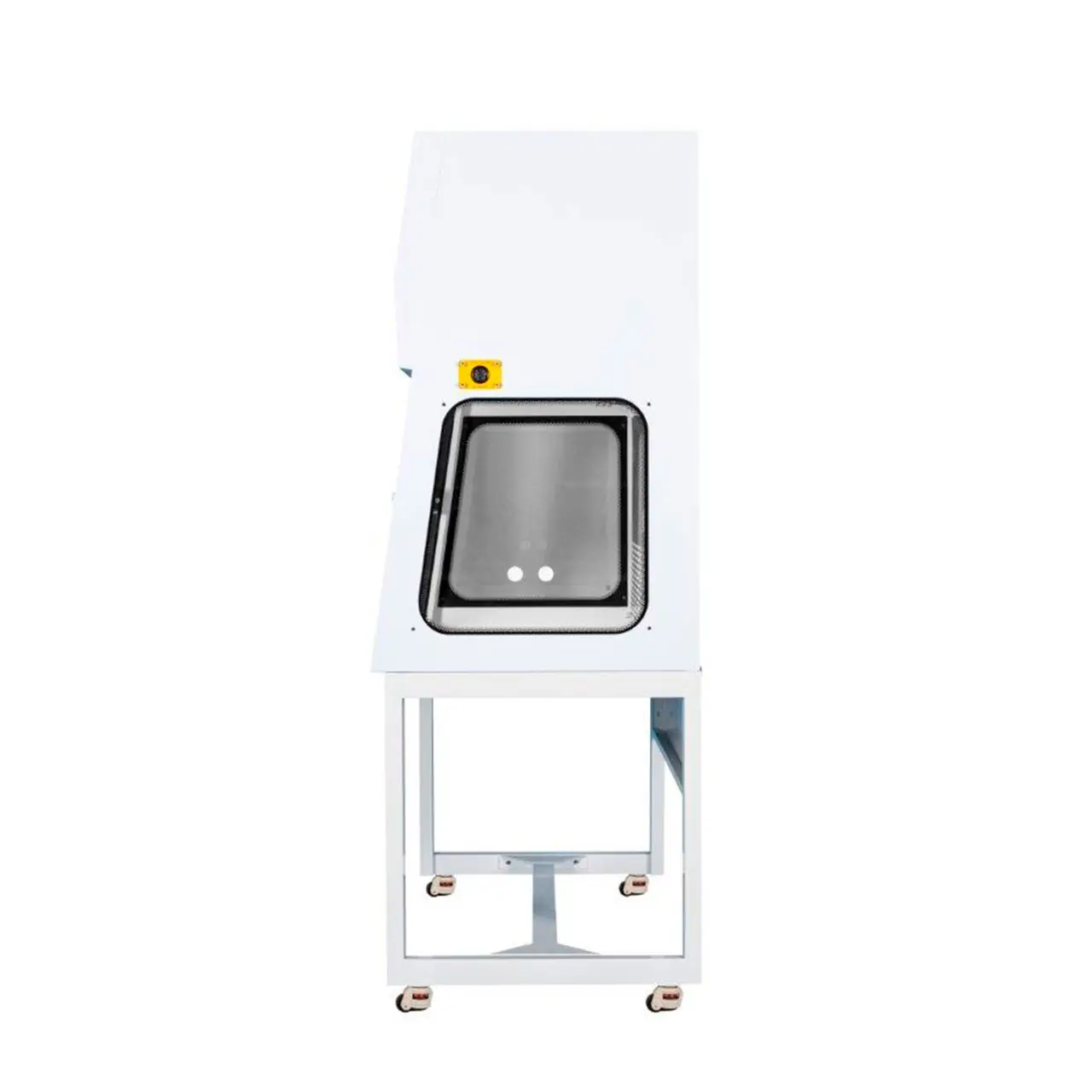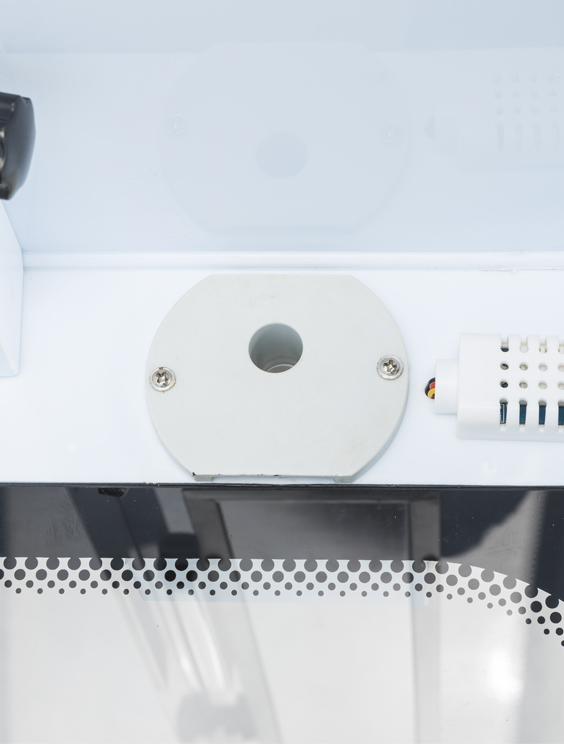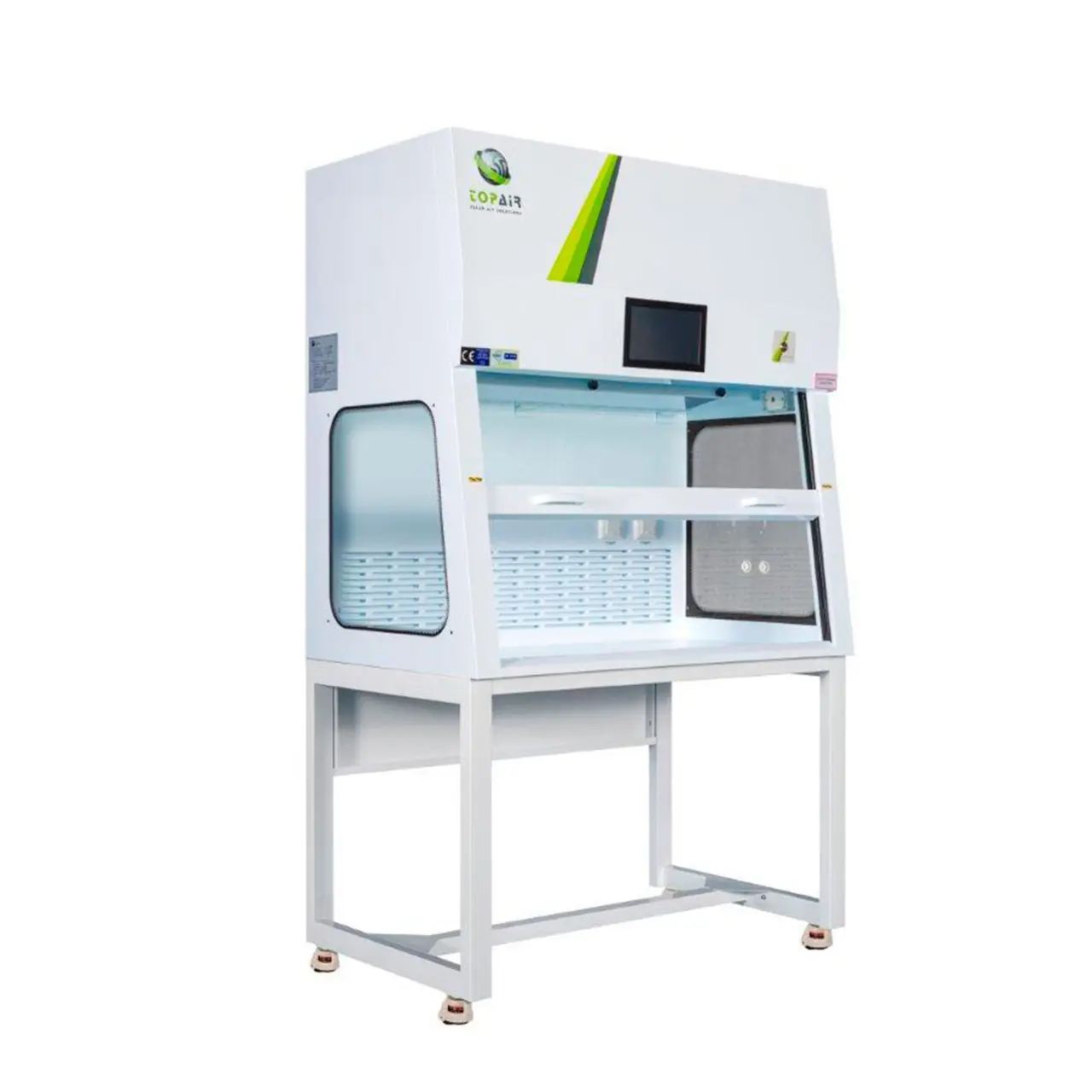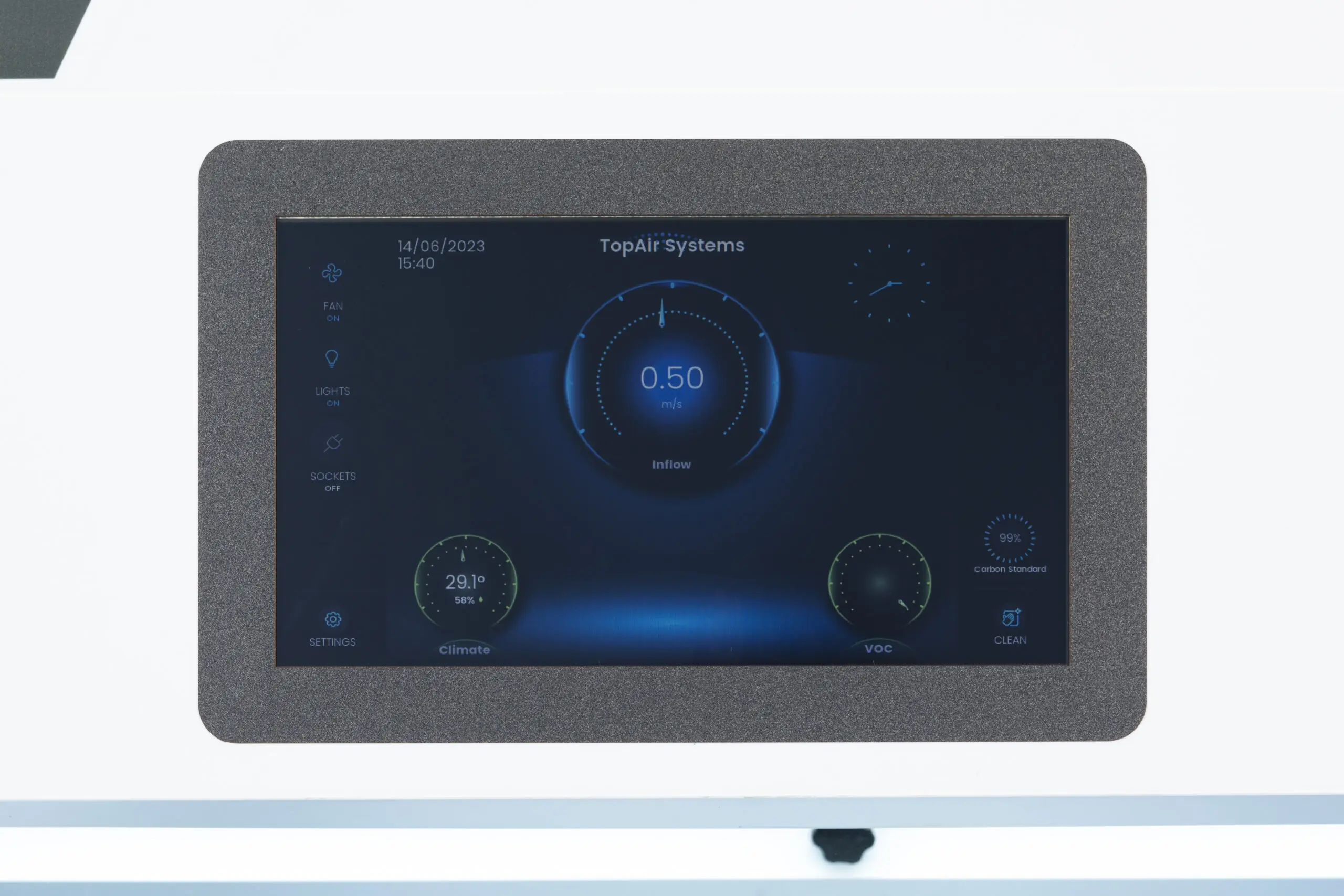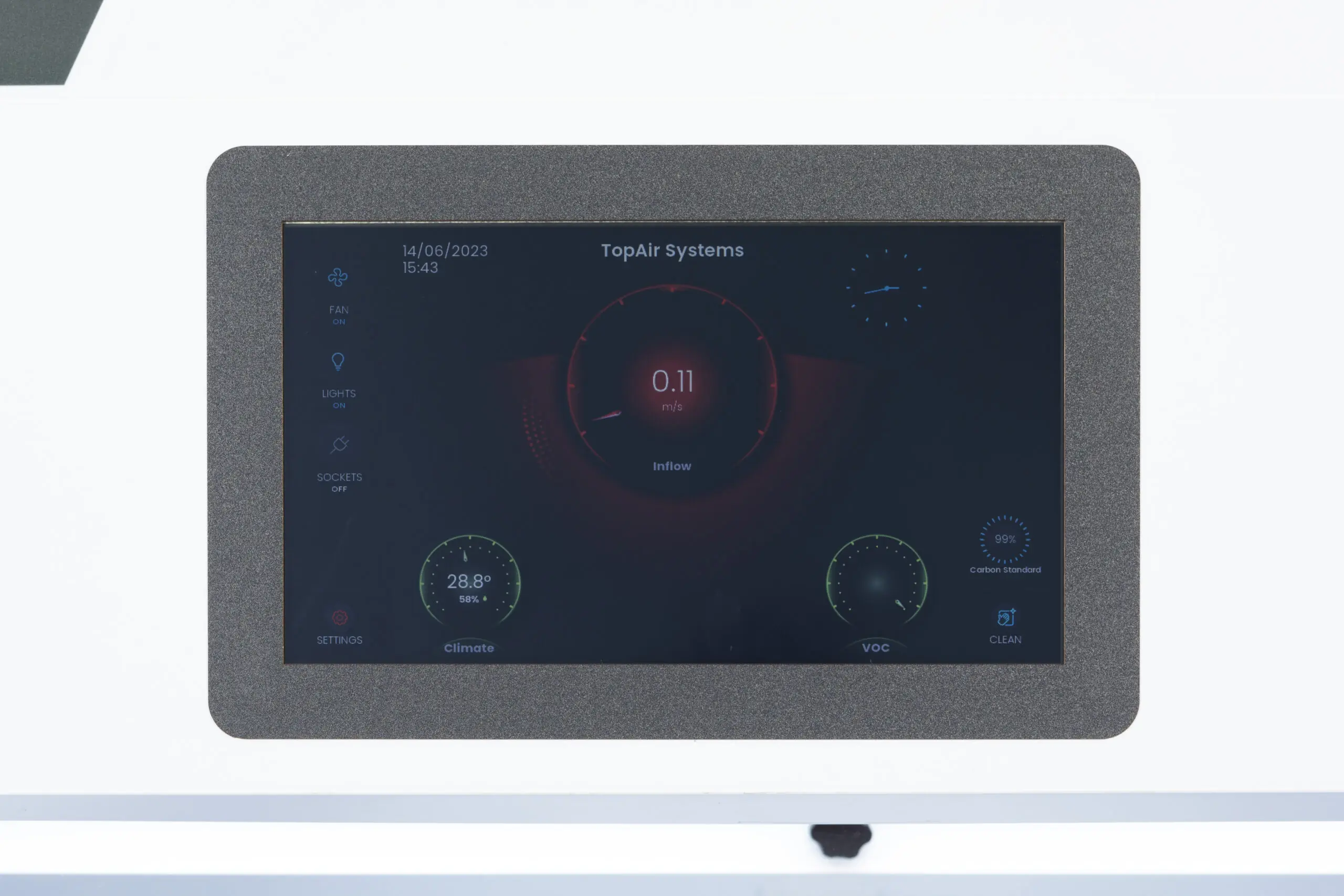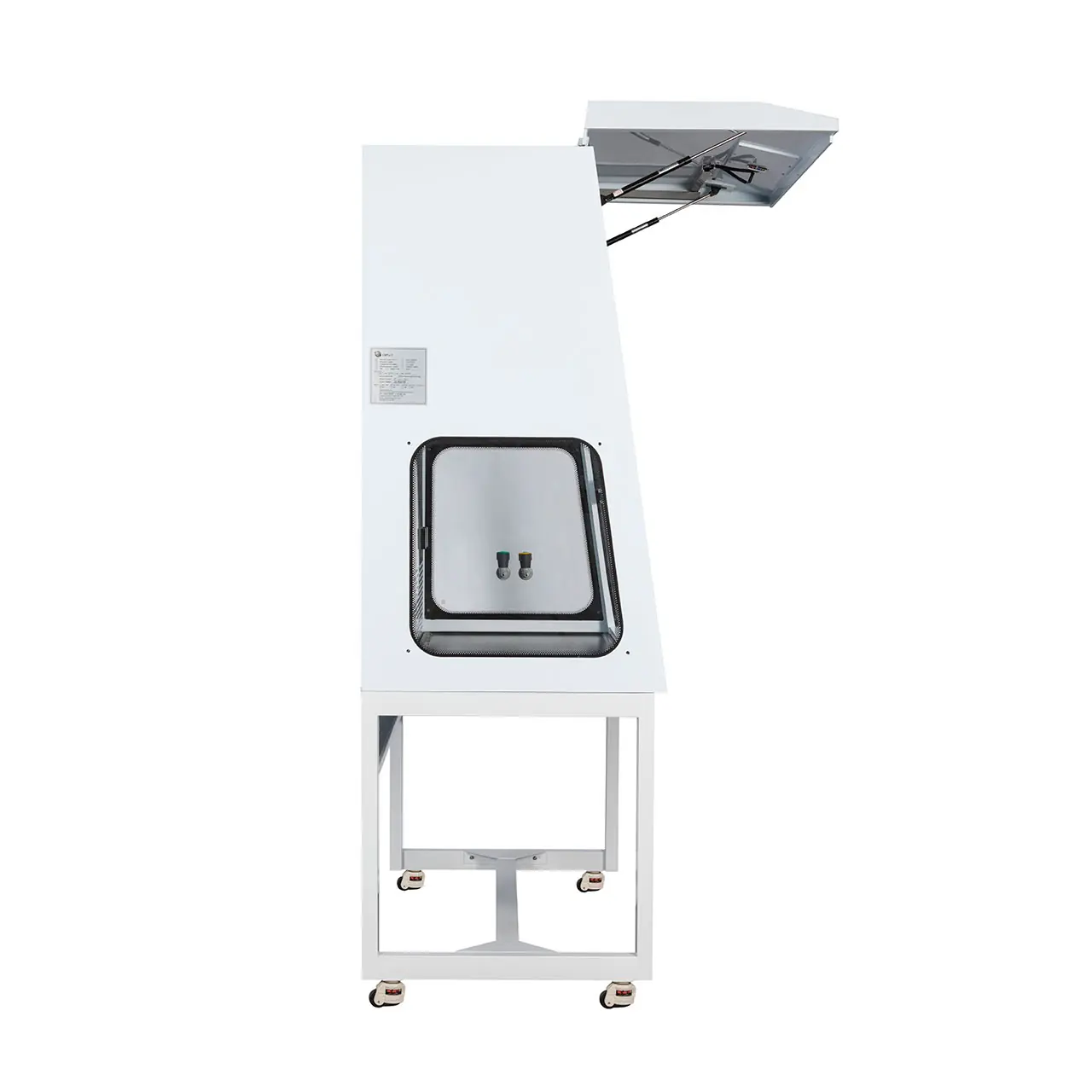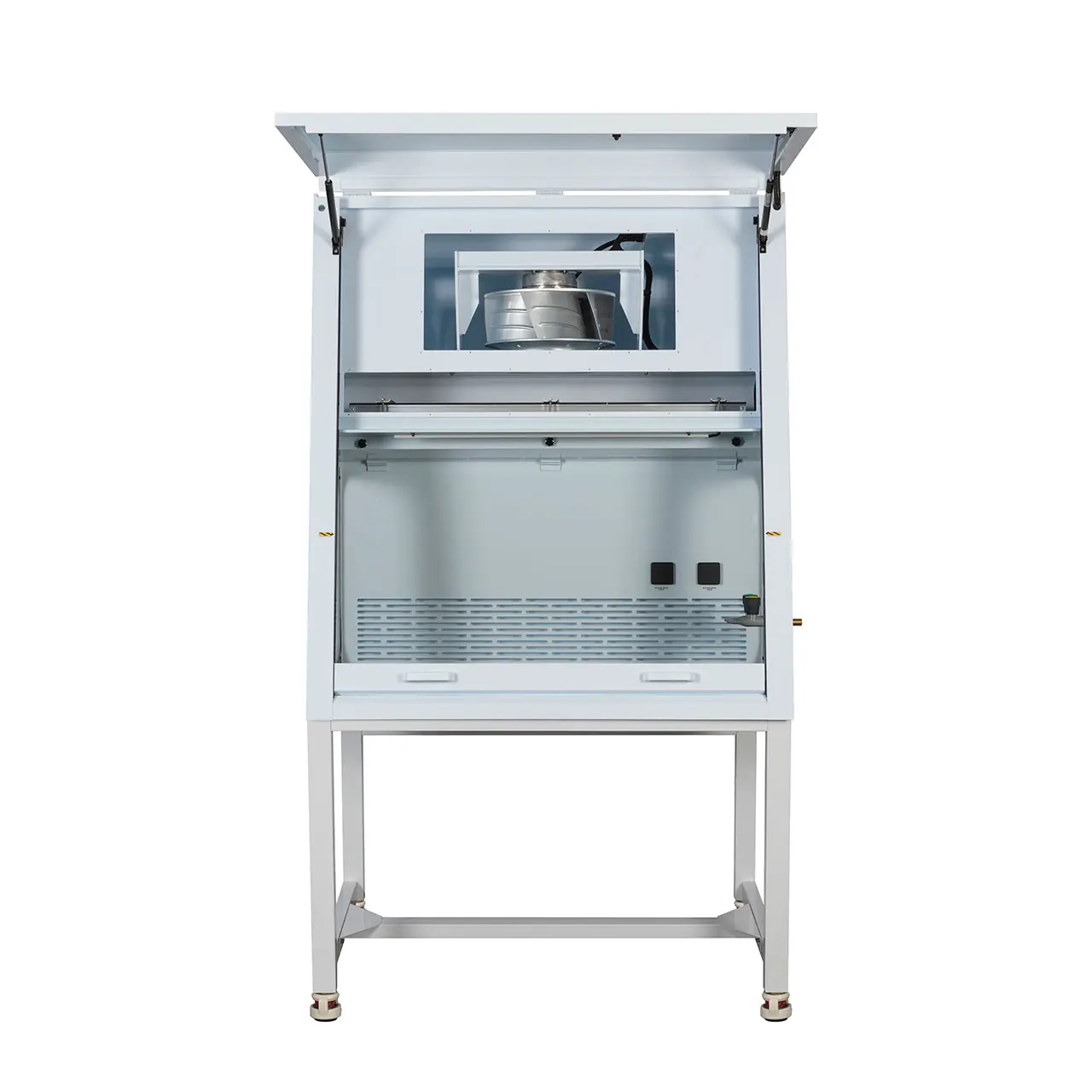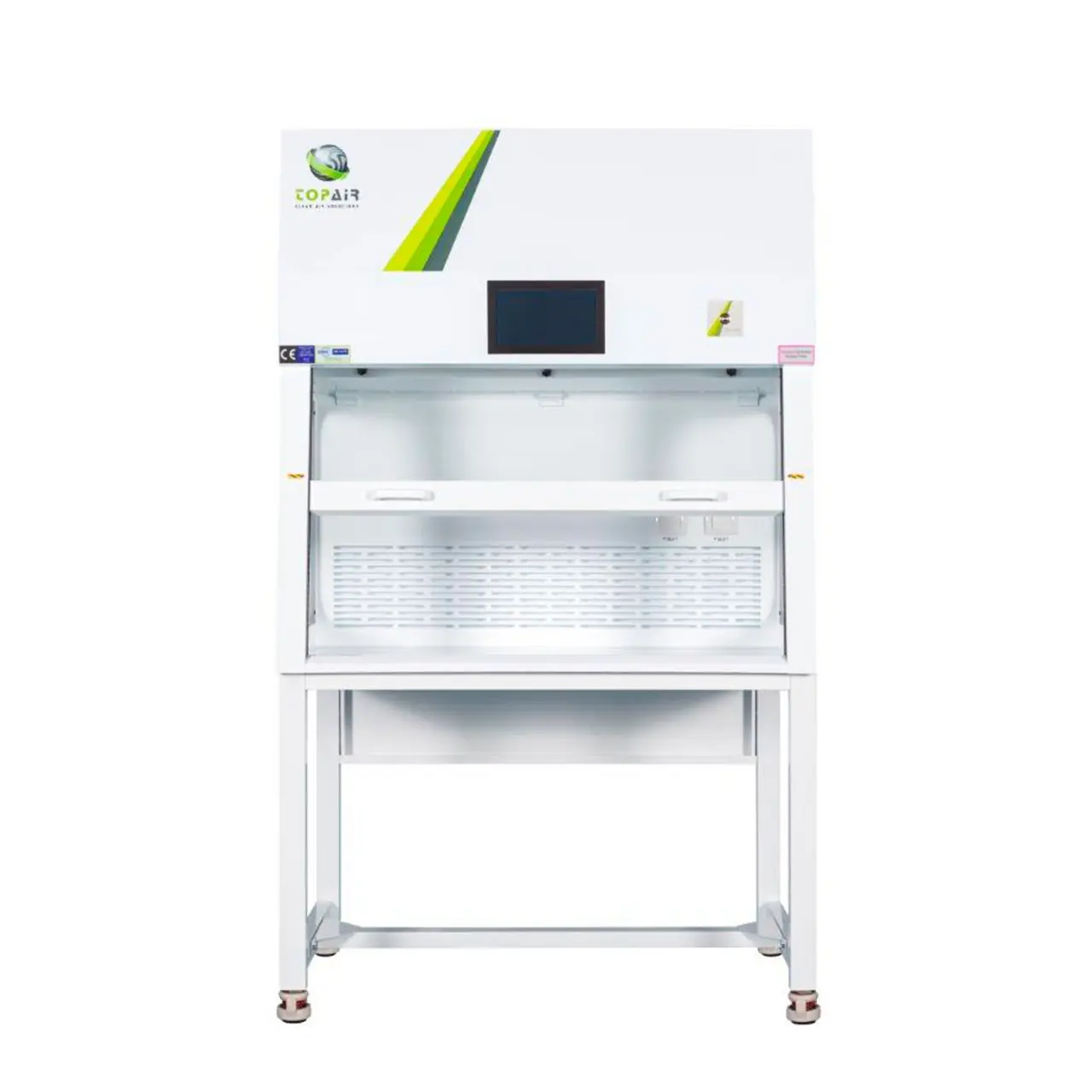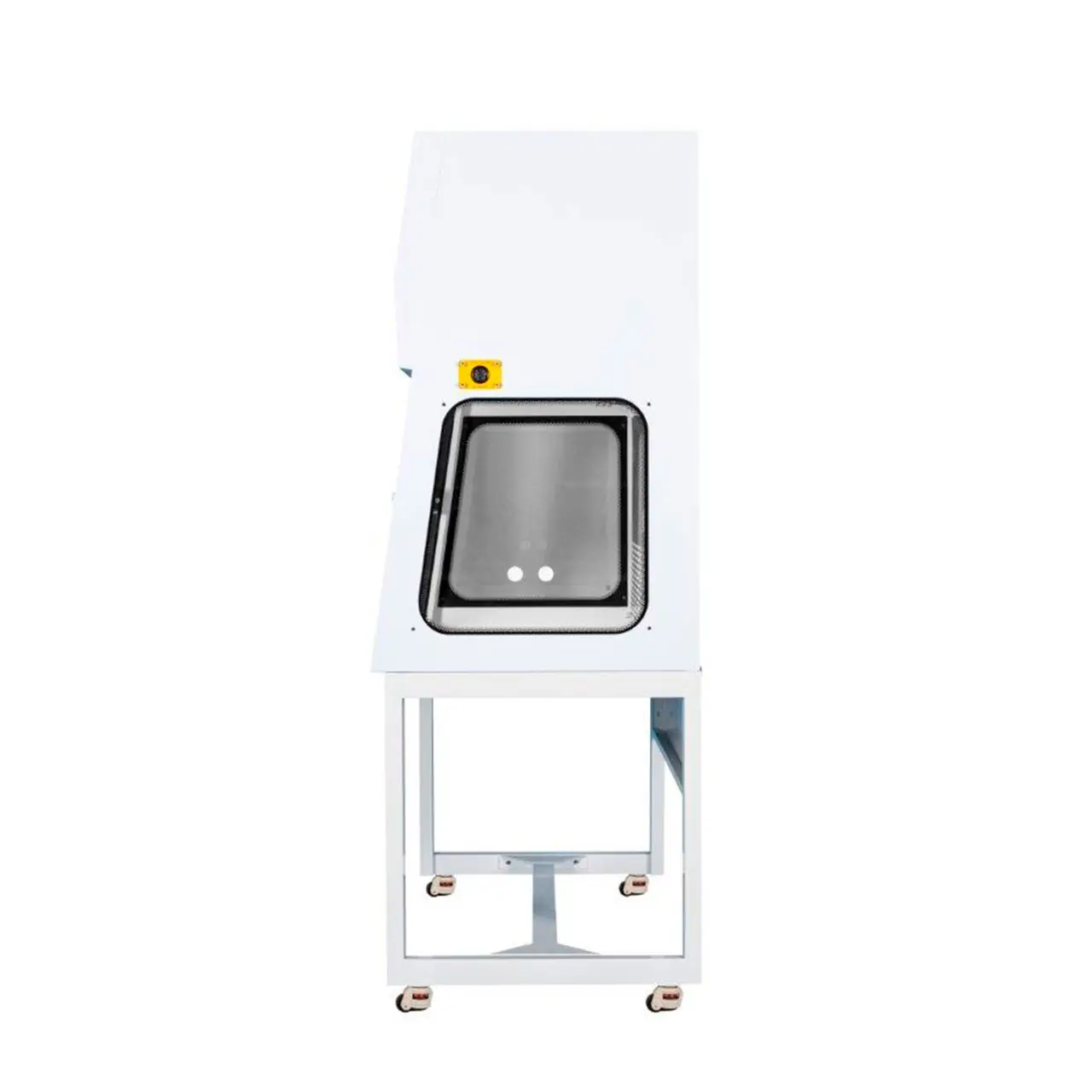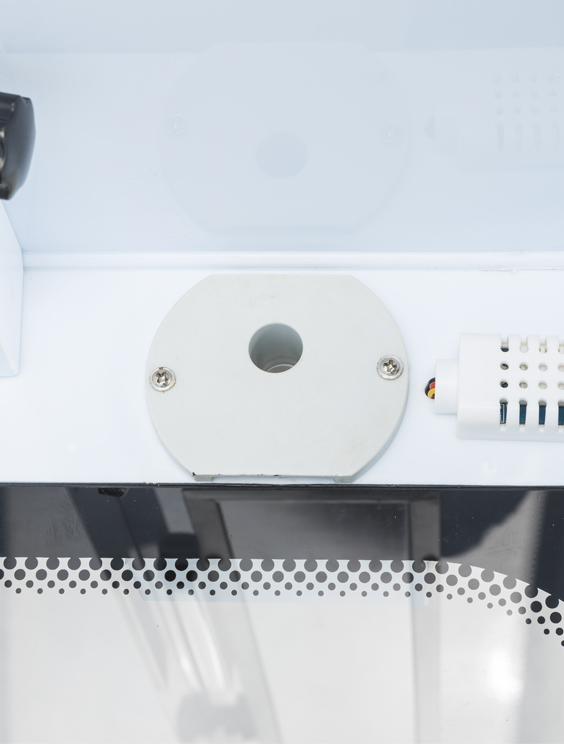 Product
Polypropylene Ductless Fume Hood – PRO
Topair's Polypropylene Ductless Fume Hood – PRO provides a safe work environment for lab staff working with acids and harsh chemicals.
The hood includes an advanced VAV (Variable Air Volume) system. The VAV system measures the product's air velocity using a high quality sensor, and adjusts the air velocity speed to the relevant standard.
Maximal energy savings are enabled by flexibly adjusting the fan speed (high/low) as needed. The system features a high safety level, displaying real time air velocity and providing alarms for low velocity levels, thus reducing the fume hood's noise level.
Advanced Operation System
9″ color touch screen
Hour counter for filter
Filter replacement alarm for HEPA/Carbon filters
Sensor for temperature and humidity
The products are EN-14175 / CE / ASHRAE 110-1995 certified.
Chemical Sensor Alarm
Samples the chemical level after filtration, displays PPM results and alerts upon low filtration efficiency
Red Light Alarm
A red light inside the unit switches on whenever there is any kind of a failure (including chemicals or air velocity failures) while the system light switches off. This enables convenient detection of failures, even by people with hearing issues, and from a distance.

Show all
Polypropylene Ductless Fume Hood – PRO
Models
Spec/ Model
CF-060-PRO
CF-090-PRO
CF-120-PRO
CF-150-PRO
CF-180-PRO
Outer Dimensions
W x D x H
600 x 750 x 1223
mm
23.62 x 29.5 x 48"
900 x 750 x 1223
mm
35.4 x 29.5 x 48"
1200 x 750 x 1223
mm mm
47.24 x 29.5 x 48"
1500 x 750 x 1223 mm mm
59 x 29.5 x 48"
1800 x 750 x 1223 mm mm
70.8 x 29.5 x 48"
Dimensions for
XL model with 2
internal filters
W x D x H
For XL models
add –XL to P/N
600 x 750 x 1500
mm
23.62 x 29.5 x 59″
900 x 750 x 1500
mm
35.4 x 29.5 x 59″
1200 x 750 x 1500
mm
47.24 x 29.5 x 59″
1500 x 750 x 1500
mm
59 x 29.5 x 59″
1800 x 750 x 1500
mm
70.8 x 29.5 x 59″
Workspace
(W x D x H)
585 x 590 x 695 mm
23 x 23.2 x 27.3″
885 x 590 x 695 mm
34.8 x 23.2 x 27.3″
1185 x 590 x 695 mm
46.6 x 23.2 x 27.3″
1485 x 590 x 695 mm
58.4 x 23.2 x 27.3″
1785 x 590 x 695 mm
70.2 x 23.2 x 27.3″
Front Sash Opening
495 mm / 19.5″
495 mm / 19.5″
495 mm / 19.5″
495 mm / 19.5″
495 mm / 19.5″
Test Standard
EN-14175 / CE / ASHRAE 110-1995
EN-14175 / CE / ASHRAE 110-1995
EN-14175 / CE / ASHRAE 110-1995
EN-14175 / CE / ASHRAE 110-1995
EN-14175 / CE / ASHRAE 110-1995
Air Velocity
0.5±0.1 m/s, 100±20 FPM
0.5±0.1 m/s, 100±20 FPM
0.5±0.1 m/s, 100±20 FPM
0.5±0.1 m/s, 100±20 FPM
0.5±0.1 m/s, 100±20 FPM
Cabinet Material
Welded white polypropylene structure with built-in sealed polypropylene worktop
Welded white polypropylene structure with built-in sealed polypropylene worktop
Welded white polypropylene structure with built-in sealed polypropylene worktop
Welded white polypropylene structure with built-in sealed polypropylene worktop
Welded white polypropylene structure with built-in sealed polypropylene worktop
Noise
(Tested 20 cm from the work table, 1.2m above ground)
<52dB
<52dB
<54dB
<60dB
<62dB
Power Supply
110 / 220V 50/60 Hz, Single phase
110 / 220V 50/60 Hz, Single phase
110 / 220V 50/60 Hz, Single phase
110 / 220V 50/60 Hz, Single phase
110 / 220V 50/60 Hz, Single phase
Illumination
800 LUX, Eco-friendly LED lighting
800 LUX, Eco-friendly LED lighting
800 LUX, Eco-friendly LED lighting
800 LUX, Eco-friendly LED lighting
800 LUX, Eco-friendly LED lighting
Filter
Carbon filters for solvents, acids, bases, formaldehyde, multi gas (blend of materials) /HEPA/ULPA
Carbon filters for solvents, acids, bases, formaldehyde, multi gas (blend of materials) /HEPA/ULPA
Carbon filters for solvents, acids, bases, formaldehyde, multi gas (blend of materials) /HEPA/ULPA
Carbon filters for solvents, acids, bases, formaldehyde, multi gas (blend of materials) /HEPA/ULPA
Carbon filters for solvents, acids, bases, formaldehyde, multi gas (blend of materials) /HEPA/ULPA
ACCESSORIES
| Model | Description |
| --- | --- |
| CF-GTAP | Gas tap |
| CF-PP-SINK | Polypropylene cup sink |
| CF-SINK-3040 | Polypropylene sink 30 x 40 |
| CF-size-BS | Polypropylene base cabinet |
| CF-size-ST | Metal Stand |
| CF-SOCKET | Power outlet installed |
| CF-UV | UV Light |
| CF-WTAP | Water tap |