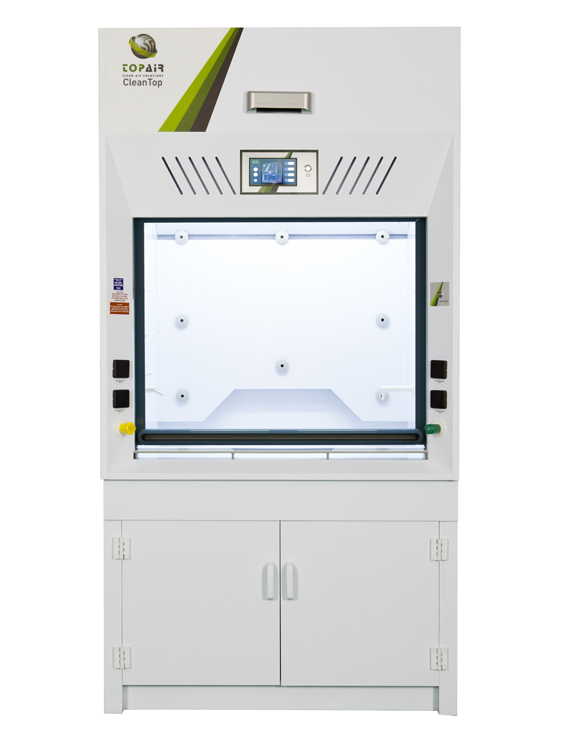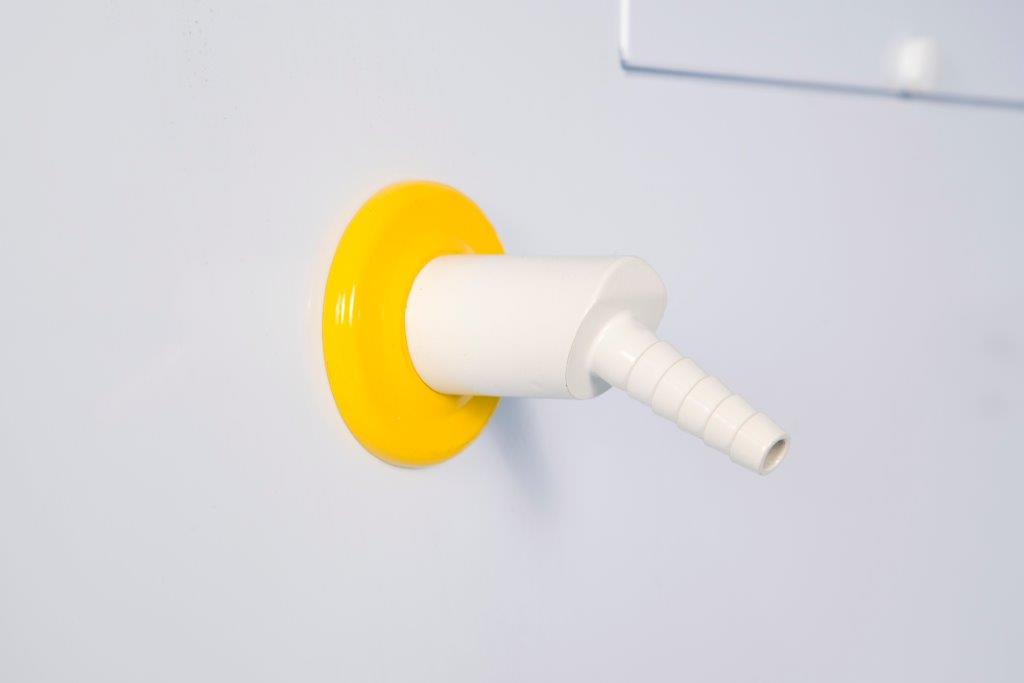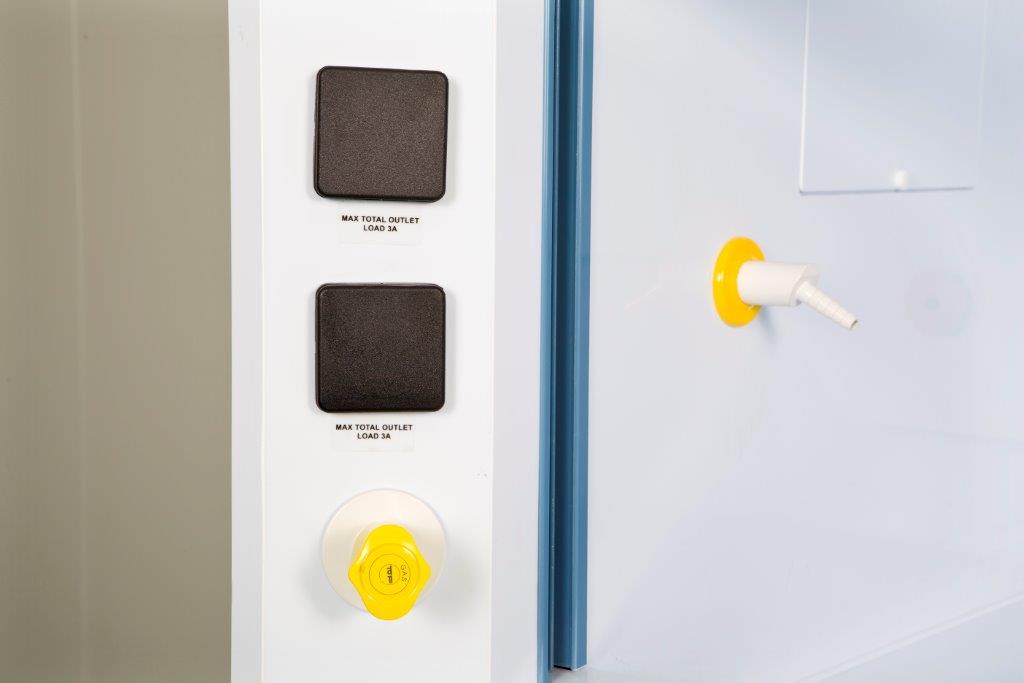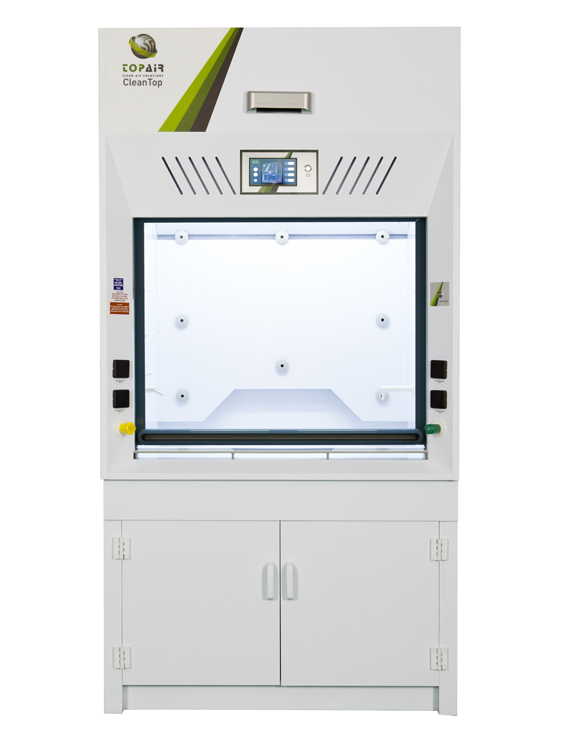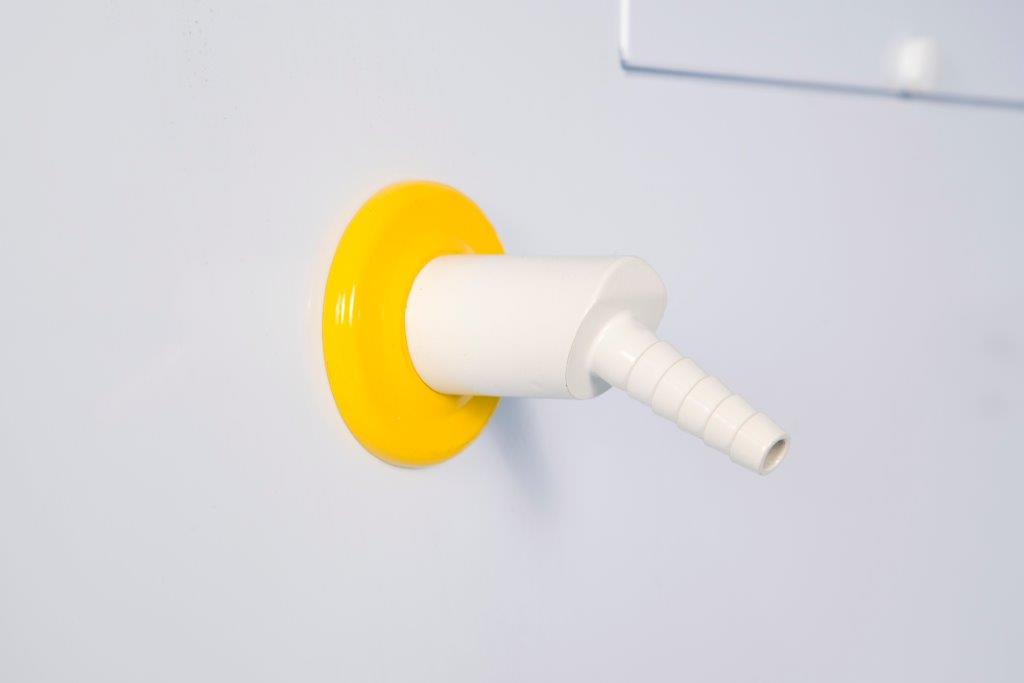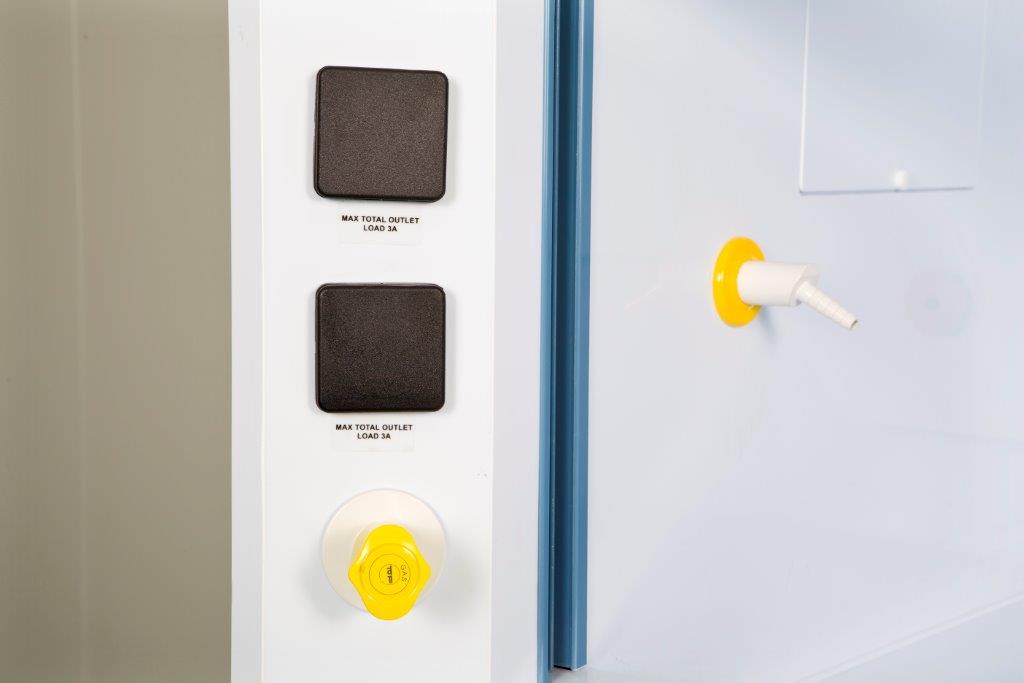 Product
Active Polypropylene Fume Cupboard
TopAir's Active Polypropylene Fume Hood is an advanced high quality system enhanced with innovative technology, offered at highly competitive prices.
The hood is made of high-quality non-corrosive polypropylene with excellent chemical resistance.
The Active Fume Hoods protect laboratory staff from noxious fumes released by acids, dangerous gas and organic solutions – materials and acids which regular steel hoods may not withstand. Harmful and unpleasant chemical fumes are removed from the controlled environment to facilitate a safe and pleasant work environment. The fume hood channels chemical vapors out of the building using an external fan installed on the roof or on an external wall.
The fume hood features a sensor which detects staff standing next to the unit, and accordingly, opens and closes the window automatically. The unit's fan speed changes according to the open/closed mode of the window, saving substantial energy.
Upon a failure, the interior of the cabinet is lighted up in bright red, so that staff, including people with hearing issues, can easily detect the failure from a distance.
VAV System
TopAir's reliable VAV (Variable Air Volume) system for fume hoods measures the air velocity using a high quality sensor. The data is converted to an analog signal that can control a VFD (Variable-Frequency Drive).
The system's key advantage is its ease of operation: an unskilled worker can easily calibrate, set the alarm and operation set points and control the system. The VAV system provides a safe energy-saving environment and can upgrade fume hoods to smart, advanced devices. TopAir's VAV system is provided as a complete installed product.

Show all
Active Polypropylene Fume Cupboard
Models
Spec/Model
FH-120-PP-ACT
FH-150-PP-ACT
FH-180-PP-ACT
FH-200-PP-ACT
FH-250-PP-ACT
External
Dimensions W x D x H
1200 x 830 x 2320 mm
47.3x 32.6 x 91.3"
1500 x 830 x 2320 mm
59.0 x 32.6 x 91.3"
1800 x 830 x 2320 mm
70.9 x 32.6 x 91.3"
2000 x 830 x 2320 mm
78.7 x 32.6 x 91.3"
2500 x 830 x 2320 mm
98.4 x 32.6 x 91.3"
Workspace
(W x D x H)
1000 x 630 x 1170 mm
39.4 x 24.8 x 46"
1300 x 630 x 1170 mm
51.2 x 24.8 x 46"
1600 x 630 x 1170 mm
63 x 24.8 x 46"
1800 x 630 x 1170 mm
70.8 x 24.8 x 46"
2300 x 630 x 1170 mm
90.5 x 24.8 x 46"
Front Sash Max Opening
720 mm / 28.3″
720 mm / 28.3″
720 mm / 28.3″
720 mm / 28.3″
720 mm / 28.3″
Production /
Test Standard
EN-14175 / CE / ASHRAE 110-1995
EN-14175 / CE / ASHRAE 110-1995
EN-14175 / CE / ASHRAE 110-1995
EN-14175 / CE / ASHRAE 110-1995
EN-14175 / CE / ASHRAE 110-1995
Air Velocity
0.5±0.1 m/s, 100±20 FPM
0.5±0.1 m/s, 100±20 FPM
0.5±0.1 m/s, 100±20 FPM
0.5±0.1 m/s, 100±20 FPM
0.5±0.1 m/s, 100±20 FPM
Hood Material
White Polypropylene
White Polypropylene
White Polypropylene
White Polypropylene
White Polypropylene
Work Table Material
HPL/ Ceramic / Epoxy / PP / Stainless steel
HPL/ Ceramic / Epoxy / PP / Stainless steel
HPL/ Ceramic / Epoxy / PP / Stainless steel
HPL/ Ceramic / Epoxy / PP / Stainless steel
HPL/ Ceramic / Epoxy / PP / Stainless steel
Control System
VAV System with 9" color touch screen
VAV System with 9" color touch screen
VAV System with 9" color touch screen
VAV System with 9" color touch screen
VAV System with 9" color touch screen
Optional
Water tap/ gas tap / vacuum tap/ pp sink
Water tap/ gas tap / vacuum tap/ pp sink
Water tap/ gas tap / vacuum tap/ pp sink
Water tap/ gas tap / vacuum tap/ pp sink
Water tap/ gas tap / vacuum tap/ pp sink
Power Supply Options
110/220V, 50/60 Hz,
Includes a single phase power supply.  A three-phase power supply can be specially ordered.
110/220V, 50/60 Hz,
Includes a single phase power supply.  A three-phase power supply can be specially ordered.
110/220V, 50/60 Hz,
Includes a single phase power supply.  A three-phase power supply can be specially ordered.
110/220V, 50/60 Hz,
Includes a single phase power supply.  A three-phase power supply can be specially ordered.
110/220V, 50/60 Hz,
Includes a single phase power supply.  A three-phase power supply can be specially ordered.
Illumination
800 LUX LED lights
800 LUX LED lights
800 LUX LED lights
800 LUX LED lights
800 LUX LED lights
ACCESSORIES
| Model | Description |
| --- | --- |
| FH-FAN-1100-300 | Centrifugal fan 1.1 KW 2800 RPM/IE3 DIA 300 mm |
| FH-FAN-750 | Centrifugal fan 0.75 kw 2800 RPM/IE3 |
| FH-GTAP | Gas tap |
| FH-KIT | Kit for Fume Hood includes: 1 water tap, 1 gas tap, 1 cup sink and 4 power outlets |
| FH-PP-SINK | Polypropylene cup sink |
| FH-SINK-3040 | Polypropylene sink 30 x 40 |
| FH-SOCKET | Power outlet installed |
| FH-VAV | Air flow monitor with audible alarm VAV+VFD installed, including 7'' LCD touch screen controller |
| FH-VAV-4.3 | Air flow monitor with audible alarm VAV+VFD installed, including 4.3'' LCD touch screen controller |
| FH-WTAP | Water tap |